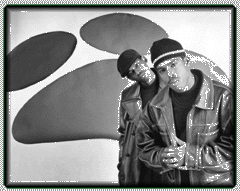 The sound of hip-hop takes centerstage in 'The Show'
Rap films generally suck. Fans who sat through Breakin', Breakin' 2: Electric Boogaloo or Tougher Than Leather wanted their money back. Not even the biggest hip-hop head survived Krush Groove or Beat Street more than once. If these were prime examples of hip-hop film, it would be justifiable to banish hip-hop from celluloid altogether. Hip-hop fans' patience has been rewarded with The Show.
The concert film opens with hip-hop entrepreneur Russell Simmons visiting incarcerated rapper Slick Rick, who is serving 15 years for attempted murder. Slick Rick's hard-time lessons are juxtaposed with Snoop Doggy Dogg, another rapper known for his run-ins with the law. The Show winningly discounts rappers who push the gangsta/thug image beyond the record, underlining a strong, anti-gun stance.
The documentary features hitmakers the Notorious B.I.G., Wu-Tang Clan, Snoop Doggy Dogg, Tha Dogg Pound and Warren G on tour, backstage, in hotel rooms and on stage. The more amazing sequences involve the Wu-Tang Clan, seen running amok in Japan. Run-D.M.C. is given proper respect with thoughtful interviews and some of the film's best performances. Industry bigwigs like Suge Knight, Dr. Dre, Andre Harrell and Sean "Puffy" Combs expound on what it all means. Old-school rappers like Whodini, Kurtis Blow and others discuss what their contributions did to a generation of kids who now have hit records but never stepped on a stage or rocked a park after dark. "They don't know what it's like to go platinum and never go on tour," says Raheem, of the Furious Five.
The coverage is OK, but too much film stock is spent on Compton gangsta funk rapper Warren G. It makes the omission of Public Enemy, KRS-One, De La Soul and A Tribe Called Quest especially glaring. Also annoying are the concert scenes themselves--all shot in black and white, not one song performed in its entirety. The sound is also uneven at times, and the interviews are nothing you haven't heard on Yo! MTV Raps. As the concept of the live rap show becomes extinct, the cinema may be the only way some kids are going to see what live rap is all about. The Show delivers an inside, if tailored, peek.
The Show, a documentary by Brian Robbins, shows at selected theaters valleywide.
[ Movies Central | MetroActive ]