Arts
San Jose Taiko 40th anniversary
San Jose Taiko celebrates 40 years of unique 'California Sunshine Taiko'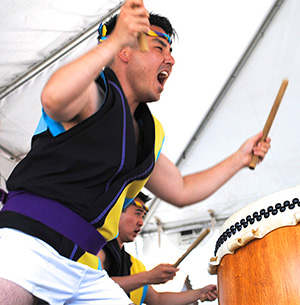 Back in the 1970s, playing a tambourine in a taiko drum song was unheard of, even shocking. A few months ago, the last time I was in San Jose Taiko's practice space, they were rehearsing for a one-night show with the six-man DJ collective Bangerz that plays an almost indefinable amalgam of electronic genres. After the show "everybody's major complaint," says Franco Imperial, SJT's artistic director, "was that it was too short and that we didn't have more tickets."
Now, I'm watching SJT rehearse for another show, this one celebrating its 40th anniversary. Again it's a collaboration, this time with Abhinaya, a Bharatanatyam dance company out of San Jose. Bharatanatyam is a traditional South Indian dance form that originated in the Hindu temples, and now the Abhinaya dancers, fingers splayed in the air, are weaving their way between the taiko drummers, themselves inheritors of an ancient Japanese art.
But words like "traditional" and "ancient," while perhaps technically correct, are as complicated as the path from the past to the present. Kumi-daiko, the group style of taiko drumming played by SJT and popular all over the world, was derived from its older form only 60 years ago, and by a Japanese jazz musician at that. (Bharatanatyam went through its own period of reconstruction and reinterpretation in the early 20th century.)
Taiko is a traditional art form, but from its founding in 1973, SJT has never thought of itself that way. The founding members of the group wanted to explore who they were as Japanese-Americans, emphasis on both sides of the hyphen. So, with an ancient Japanese art form already shaped by an American style of music, they turned to the popular music of their generation: rock & roll, jazz and R&B. Hence, the tambourine.
"The idea of bringing a tambourine into a taiko ensemble at the time was just craziness," says Imperial, "and that was one of the things that made San Jose Taiko different. We were fusing styles."
Matt Ogawa, one of the senior members of SJT, points out the rows of instrument racks around the practice space. "I would be willing to bet probably half—if not more—of the taiko groups in the U.S. that are our age or older don't use any of those kind of instruments that are not Japanese."
Thus, San Jose Taiko, the third oldest taiko group in the U.S., has a long history of creating its own style. Roy Hirabayashi, a co-founder of SJT, and his wife PJ Hirabayashi, a founding member and now Artistic Director Emeritus, set out purposefully to make this so. When SJT became the first American taiko group invited to tour Japan in 1987, the Japanese were "blown away by the idea of this effervescent joyful energy coming out the performance," says Imperial. Taiko is usually static and stoic, so SJT's fluid movement and joy surprised the originators of the form. They dubbed it "California sunshine taiko."
"[Roy and PJ] were of the school that if there were a bunch of San Jose Taiko clones in the taiko community, it would be a really boring art form," says Imperial. "And likewise for us," adds Ogawa, "if we just played other people's songsÉthat would be boring."
This is why SJT doesn't teach its repertoire to other taiko groups and why all its songs are written or arranged by SJT members. This attitude challenges other groups to find their style, and sparks the creativity of its own members. As taiko becomes more popular—which it definitely has over SJT's 40 years—this attitude might save the art form from what seems like the inevitable washing-out of uniquities when subcultures hit the mainstream.
But for now, SJT will continue doing what it's always done: providing a connection to the past and a vision for the future. The 40th anniversary concert pays homage to SJT's history with a medley of the group's greatest hits, including one dedicated to the first generation of Japanese-Americans. Tentatively, a tour with the Bangerz DJ collective is scheduled for late 2014.
San Jose Taiko 40th anniversary Concert
San Jose Center for the Performing Arts
Sat. Oct. 5; $25-30