Arts
Review: 'A View from the Bridge'
Pear Theatre's production of Arthur Miller play suffers
from contemporary political interpretation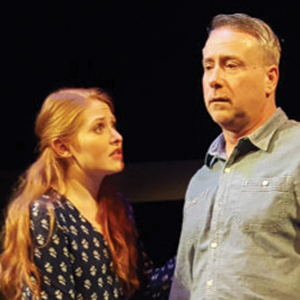 On the opening weekend of A View from the Bridge, the Pear Theatre suffered from major climate control issues. When an employee was asked why the temperature was as humid as a Louisiana swamp, she replied, "I don't know."
The lack of oxygen and the rising mercury inspired a claustrophobic response in some theatergoers and led to an exodus at intermission. (Full disclosure: I was one of the half-time departures).
The lack of twenty- or even thirty-somethings there on a Saturday night raised the question that hung in the heavy air: how to make A View from the Bridge relevant to younger audiences? The story of the blue-collar worker Eddie, a precursor to the intolerant bigot Archie Bunker from Norman Lear's sitcom All in the Family, is psychologically dated. But what if parallels could be made to the Trump administration's recent immigration bans? Was Arthur Miller really that prescient or would that be a stretch?
The day before President Trump's inauguration, Philip Bump's Washington Post headline read: "Trump reportedly wants to cut cultural programs that make up 0.02 percent of federal spending." Arts reporters have been feverishly typing in panic mode ever since. After an initial bout of hand-wringing and teeth-gnashing, a thread of self-justification began to seep into the work. Arts coverage could become as endangered as federal funding for the arts themselves. How then does a dwindling section of the paper (or any media organization) engage readers in this new pro-business and anti-arts era?
One method is the facile way: by seeing every current project as a referendum on this administration. Case in point, a recent KQED interview with Ray Renati, the director of A View from the Bridge. Renati is quoted as saying, "Eddie's a bully. No one dares to go against anything that Eddie says, or he will make sure you pay. Donald Trump does the same thing." Eddie may be a bully but pairing his psychology with Trump's limits his character even further than it already is. It's like watching the play through fogged-up lenses: you're only left with Eddie's blurred outline and none of his inner life.
As is the case with all interviews, Renati's response must have been edited and condensed, but his comment was collected with others and codified under the headline: "Silicon Valley Theatre Scene Bristles with Political Edge in the Age of Trump." This is the editorial agenda du jour that's meant to stir up interest in any play, movie, painting or symphony that edges into topical territory. This isn't to say that #Resistance in the arts shouldn't be covered. But predetermining it as the blanket motivation for praising artistic value is problematic. Moonlight, this year's Academy Award winner for best picture, was not a commentary on the Trump administration. Does that make it any less worthwhile to see?
At one point in the production, several characters stood on stage open-mouthed with disbelief at Eddie's (Geoff (Jeffrey) Fiorito) behavior. Everyone around him could see that he was motivated by a repressed lust for his wife's niece Catherine (April Culver). Miller reveals Eddie's naked psyche to everybody but himself. His journey toward self-destruction is marked by hubris, by an act of betrayal to his own community and by an overestimation of his power in the household he runs. If this were theater as wish fulfillment, watching the totem of a bully fail on stage would ensure that he and his counterparts in elected office would follow suit. Would that it were so easy to engineer a similar downfall for stentorian leaders everywhere.
Or is that the only reason the arts are now necessary, why they're so dangerous as to merit defunding? Can their value only be measured by how high they fan the flames of political dissent? If that's the marker for criticism, then immigrants will surely see themselves in the characters of Marco (Drew Reitz) and Rodolpho (Anthony Stephens), in their struggle to be at home in a suspicious, unwelcoming country. For that point alone, it's a story worth telling. But A View from the Bridge is unlikely to intimidate wealthy, powerful bullies. They'll remain as they always have, unmoved by anyone's interests but their own.
A View from the Bridge
Thru Apr 2, 2pm & 8pm, $28-$30
The Pear Theatre, Mountain View