Arts
A Dangerous Art Show
Adam Porwol deploys mercury, lead paints in 'If Looks Could Kill'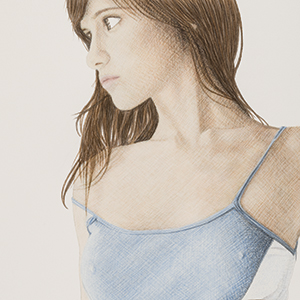 The Arsenal's newest exhibition, "If Looks Could Kill" is both an innovative take on contemporary portraiture and an homage to an art show out of the 15th century. The first solo show by San Jose-based artist Adam Porwol features a series of seductive female portraits painted with dangerous pigments.
Displayed without name or designation—save warnings on the dangerous chemicals used, including arsenic, lead and mercury—the collection of beautiful, scantily clad women has elements of both hyperrealism and expressionism. Textured in an almost pointillist style—except with thin, string-like brush strokes comprising the figures—Porwol creates spellbinding visual effects out of an otherwise forgettable subject matter.
At a glance, the paintings could indeed be blown-up photographs of Maxim models, right down to the suggestiveness of pose and oversaturated white balance. But upon closer inspection, the delicacy of both tone and touch, combined with the paradoxical boldness emanating from the full picture, is astonishing. The image changes as the viewer moves about the painting—a phenomenon that's hard to come by in the usual world of watercolors and acrylics.
What's more, there is an innate softness to the pieces that gives them an ethereal quality; Each one stands alone as a tantalizing, yet elegant, expression of beauty. Together, they visually hum through an interplay of pastel tones and a heavenly luminescence.
"The techniques I use are the same as those used by the Christian Eastern Orthodox Icon painters," Porwol explains. "So this is like contemporary iconography."
Employing a cross-hatching technique—which he compares to "painting pixels"—Porwol spends on average three weeks per painting, with about 50 layers of seemingly endless hatches needed to complete each piece. This goes for egg tempera, as well. The technique, which utilizes egg whites as the vehicle for delivering pigment, gives him only two hours of painting time before it dries up.
And while he works primarily in toxic or radioactive pigments, Porwol's wildest technique involves his own body. To make the jet-black paint that frames a few of the female portraits, Porwol managed to get his wisdom teeth from his dentist—along with another full bag of teeth, which he heated and crushed into pigment.
All of this might scan as a bit gimmicky. But make no mistake, Porwol's process is no novelty act. Although visually he draws inspiration from artists like Egon Schiele and Andrew Wyeth, Porwol is a tireless technician, an artist and photographer who finds inspiration in the process. He is attracted to these archaic painting methods and pigments because of the deep, meticulous dedication he brings to creating art. From mixing his own pigments using delicate and dangerous chemicals, to hand-carving the dark African wood for the painting's frames, Porwol's ethos harks back to traditions that have been mostly forgotten in an age of big-box art supply stores.
Porwol learned this old school techniques from Sean Boyles, artist and owner of The Arsenal. Call it fate, but nearly a decade ago Boyles happened to be Porwol's art teacher in middle school. Porwol was drawing exclusively in pen and ink until Boyles broadened his horizons. "I was trying to think how he could use color, but still draw like a pen, so that's kind of how he got to this, says Boyles about Porwol's egg tempera technique.
Porwol had shied away from any formal training until he met Sean. "Art-wise, I never took any classes, no formal training. The only art class I ever took was with Sean Boyles in middle school, and he's been the longest friend I've had," Porwol says, adding: "He's been my art mentor the whole way."
It shows. Under Boyle's tutelage, Adam Porwol has realized a unique and refreshing approach to painting. His pieces are blissful and alluring, but equally complicated portraits of beauty. The work in "If Looks Could Kill" has something of a boundless quality; within a 20-minute viewing window, a given piece transforms itself in different and captivating ways depending on the viewer's perspective.
Although interested parties have to sign a liability waiver to buy one, the pieces in "If Looks Could Kill" would do well changing and aging on a living room wall—almost like a living thing.
"If Looks Could Kill"
Thru Nov 5, Free
The Arsenal, San Jose