Arts
Agnes Martin's Native Inspiration
Pace Gallery pairs the work of abstract expressionist with Navajo blankets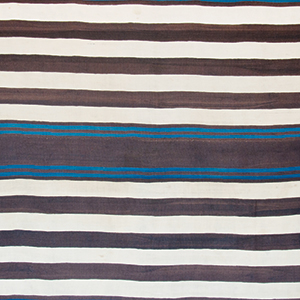 As the title of the current Pace Gallery exhibit suggests, "Agnes Martin/Navajo Blankets" pairs Navajo blankets with Martin's spare canvases. The blankets date back to the 19th century and are still intact and vibrant. One example identifies No. 6 as a "First Phase Chief's Blanket" (c. 1800-1830). No. 6 is lined with brown and white (now aged to the color of cream) stripes alternating with occasional thin indigo lines. This first phase of Navajo weaving didn't incorporate patterns. At a glance, it looks like an uncomplicated design.
But you could come to the same conclusion about Martin's acrylic and graphite canvas Blessings (2000). Pale blue stripes alternate with white ones until they meet in the middle, where one slim line of reddish pink meets and pauses to rest against a blue one. The design could be described as simple. And yet, like Mark Rothko and Ad Reinhardt, her cohorts in the school of abstract expressionism, Martin's (1912-2004) work has a mesmerizing effect. You sink inside the colors, wondering why she chose and arranged them the way she has. You contemplate that reddish-pink line until it answers the question you imagine the artist is posing.
Juxtaposing the blankets with her canvases doesn't look or feel like a gimmick. The first thought that comes to mind is, why do we regularly privilege Western art over the work of indigenous peoples? Upon close inspection, these seemingly dissimilar cultural artifacts, made a century apart from each other, blur the lines between high art and something as utilitarian as a blanket. "Agnes Martin/Navajo Blankets" alerts viewers to the fact that anyone can derive as much meaning from Martin's art as they can from the Navajo patterns.
And despite the similar approaches— the way in which they both applied minimal and muted colors to their "canvases"—the Pace Gallery also maintains that Martin wasn't appropriating the Navajo culture. Pace writes, "While Martin took no direct inspiration from the aesthetics of Navajo weaving in her approach to painting, she spent much of her life in New Mexico, and the region's cultural history and artistic production suffused her experience."
This statement presents a conundrum. If she spent much of her artistic career in the Southwest, specifically in Taos, how could that same Navajo region suffuse her experience there without directly inspiring her?
Regardless, this smart exhibit has knowingly created a symbiotic relationship. Martin's chilly work warms up next to the blankets, while the Navajo designs stand as elegant parallels to her sense of clarity and purpose.
Agnes Martin /Navajo Blankets
Thru Oct 28, Free
Pace Gallery, Palo Alto
pacegallery.com