Arts
'Agrarianaa' Highlights
Asian-American Women
Japanese American Museum of San Jose exhibits female artists in new show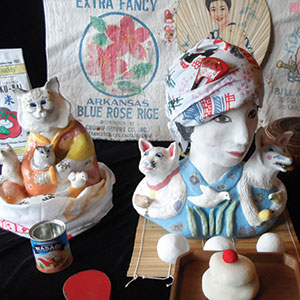 Inside the Japanese American Museum of San Jose (JAMsj), an eight-foot wooden wall hangs on display. The only remaining piece of an egg house from artist Reiko Fujii's family farm in Riverside, the wall features decades-old handwriting from Fujii's grandmother. The farm was part of her family for almost 80 years and the egg house wall remains a physical piece of Fujii's ancestral history, sustained through her art practice.
"That little room was where I would go when I was little," Fujii recalls. "I grew up in that egg house. And I remember so much about it."
In 2002, when Fujii learned that the family farm would be sold to a developer and thus destroyed, she salvaged a piece of the wall before it was too late. Now the wall is transformed into a haunting readymade as part of "Agrarianaa @ JAMsj: Art Inspired by APA Agricultural Roots," an interdisciplinary mixed-media art exhibit running through September, in conjunction with the 30th anniversary of the Asian American Women's Artists Association (AAWAA).
As a group, AAWAA began in 1989, when Asian American women's identities as artists were even more marginalized than they are today. In February of that year, Moira Roth, a feminist art historian at Mills College, got together with Chinese American artist Flo Wong, who was teaching in Sunnyvale. Within a few short weeks they began gathering in the East Bay living room of artist Betty Kano. At first, the women hadn't planned to launch AAWAA; they just wanted to meet other Asian American women artists. But as critical mass grew, a movement then emerged out of the collective struggle to rectify their exclusion and erasure from the Bay Area art world.
"A lot of times when I went to shows at galleries and museums, there wasn't an Asian American person around, an artist for me to just say hello to," Wong recalls. "So I wanted to end my personal isolation. But I was also anxious to see Asian Pacific American women begin to equally take part in these shows."
Now, 30 years later, AAWAA has brought recognition and opportunity to women on a national scale. Large shows unfold every other year with smaller ones filling in the gaps. "Agrarianaa" co-curator Michelle Lee originally joined AAWAA in 2012 as a volunteer. Just one year later, the elder members suggested she start curating shows.
"Most of the arts organizations I've worked in have tended to be with younger people or more of a monoculture," Lee says. "And so [with AAWAA] there's a lot of different ages, different experiences, different origins. Some people are immigrants. Some people, like me, have had family in the Bay Area for generations. So it's a really great mix of people. And it's non-hierarchical."
"Agrarianaa @ JAMsj" features nine local and national women artists, most of whom are descendants of Americans incarcerated in the Japanese internment camps. On multiple levels, the show investigates longing, loss, memory, nostalgia, intergenerational trauma and a quest to reconcile family history, especially the agricultural connection between Japan and the Americas. The show is not large—it occupies just one corner room at the rear of the building—but the size is deceiving. In the ample space one finds painting, sculpture, film, photography, mixed media, a mythological altar and Ikebana flower arrangements.
Each "Agrarianaa" artist stitches together multiple stories in her work, literally and metaphorically. Foothill College art teacher Judy Shintani, for example, created a new mixed-media work titled Legacy of Memories. Viewers become participants by pulling back a Japanese door curtain, a noren, to reveal an archival photo of Shintani's family houseboat sitting serenely in Puget Sound, near the 20-acre oyster farm they operated for 12 years. On the curtain one finds three pen and ink drawings on cloth, stitched into the curtain tapestry-style. The drawings were based on additional historical photos of Shintani's family. We see them standing on the deck of their houseboat, shoveling oysters on a barge, and rowing a boat to school from their houseboat. Between those three drawings and the actual photo revealed by pulling back the curtain, a narrative emerges. Shintani calls the curtain a "story noren."
"It's almost like you're moving the veil aside and seeing the life they could have had," Shintani said. "They had it for a moment and then they lost it, because my family didn't go back to doing that after they got out of the internment camps. They didn't go back to raising oysters anymore, or even living in that area. So it's almost like a little paradise that was theirs for a moment."
Other works in the show were similarly inspired by agriculture or ancestral vibrations. Lucien Kubo created Celebration of the Goddess of Rice, our Culture and Legacy, in which her visits to various Shinto shrines inspired her to create a mythological altar to the rice goddess, Inari Okami. Statuettes sit on top of sushi-rolling mats. Elsewhere on the altar we find ceramic sculptures, fabric art, chopsticks and bags of rice from Koda Farms of California, the oldest continuously family-owned and operated rice farm in the US.
In another case, artist Tina Kashiwagi graduated from Pioneer High School, then completed a BFA in Art Education from San Francisco State in 2016, and now teaches in Oakland. At JAMsj she found inspiration in the museum's permanent collection of artworks created inside the internment camps, specifically some melancholic flower sculptures made from pipe cleaners. As a result, Kashiwagi created modern-day Ikebana flower arrangements based on the four elements—earth, air, water and fire. Each arrangement sits on a separate pedestal colored to match its element. A video projection accompanies the four pieces.
"I spent my whole childhood in San Jose," Kashiwagi says. "Me and my parents spent a lot of time in Japantown. I've been in that museum with my dad, and we both really love that museum, so when they asked me to do the show, I was really honored. For one, I was being asked to show with older women that had been doing this for years, and because it's a place I've always wanted to show."
Lee says AAWAA is more outward-facing than it was 30 years ago, when women first gathered in living rooms, working from project to project. Depending on the theme, the exhibits have expanded to include other women artists of color, nonbinary individuals or any marginalized voices.
"I think that there's a lot of intersectional conversations happening," Lee says. "There's a lot of crossover, and we didn't want to stay insular. So our platform's bigger, our audience is bigger, and the stories we share are bigger."
Agrarianaa @ JAMsj
Thru Oct 13, $8
Japanese American Museum of San Jose
jamsj.org