Arts
Review: 'Annie'
Latest touring production of classic musical has spunk, charm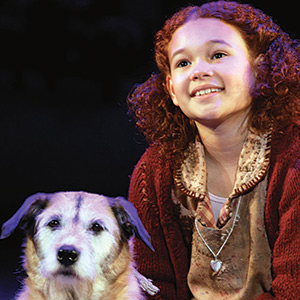 One of the most popular musicals in Broadway history, Annie continues to endear itself to new generations as it makes its way around the globe in a touring production from Troika Entertainment, brought to us locally by Broadway San Jose.
Originally debuted in 1977, with book by Thomas Meehan, music by Charles Strouse and lyrics by Martin Charnin, the nostalgic show won seven Tony awards and ran for nearly six years. It has been translated into 28 languages and performed in as many countries, from Argentina to Zimbabwe.
If you've never seen Annie, this is a good production to catch when it comes around. Directed by Charnin, this tour features stunning sets and costumes, catchy choreography, the requisite adorable little girls and wonderful performances by the principal actors. Based on the once-popular Harold Gray comic strip, Little Orphan Annie, the musical follows the rags-to-riches adventures of the feisty 11-year-old Annie (Tori Bates). She languishes in a state orphanage run by the weary and mildly abusive Miss Hannigan (Erin Fish), plotting her escape so she can find her parents—she knows they must be looking for her, somewhere, even though they had to abandon her as a baby in 1922.
Now it's 1933, the Depression grips the country, Roosevelt has been elected and everyone is scrambling to survive. But that doesn't matter to Annie—all she needs is folks to call her own, as we learn in her first solo number, "Maybe." Her optimism and rugged will to make the best of her meager circumstances inspire her orphan friends and annoy the heck out of Miss Hannigan.
The other orphans help Annie make her escape and, as she wanders New York City, she encounters a "Hooverville," as the Depression slum encampments were called, where the down-and-out residents sing sarcastically about their fate. In a police raid, Annie is caught and returned to the orphanage—but escapes Miss Hannigan's wrath when a pretty young secretary comes looking for an orphan to borrow. Grace Farrell (Casey Prins) needs an orphan for billionaire Oliver Warbucks (Gilgamesh Taggett) to adopt for just two weeks. It's coming on Christmas and as a former orphan himself, he wants to do a charity. Of course, Annie is chosen and brought back to Warbucks' mansion, where she works her magic on the entire staff.
No need to give the rest away—Annie charms everyone she meets, even President Roosevelt (Jeffrey B. Duncan), in a fun and semi-patriotic scene. Miss Hannigan, her brother, Rooster (Michael Santora), and his girlfriend (Mallory King) do their criminal best to horn in on Annie's good fortune, in the process delivering a wonderfully smart version of "Easy Street." And you can bet the sun comes out in a couple of rousing renditions of "Tomorrow,"" the show's signature song.
This touring production, now in its third year, boasts excellent performances from Taggett, Fish, Prins, Santora, and King in the adult principal roles. They possess great voices and are capable dancers—clearly enjoying their turn in this fun classic. Bates makes her professional debut as Annie, and is a determined and polished young actress. The entire ensemble is strong, most of them playing multiple roles, demonstrating admirable depth of talent for the overall show.
Scenic design by Beowulf Boritt is outstanding. His elaborate set structures and backdrops are a cut above most touring sets. Costumes by Suzy Benzinger, lighting by Ken Billington, and choreography by Liza Gennaro are also standouts. Vocal miking seemed to have some issues with orphan voices on opening night, making them shrill and treble, but improved by the second act.
Thanks to Broadway San Jose for bringing us an entertaining and memorable rendition of one of the world's favorite musicals, appreciated by fans young and old.