Arts
High Concept Street Art: 'Graffuturism'
New exhibit at Anno Domini elevates grafitti to new levels.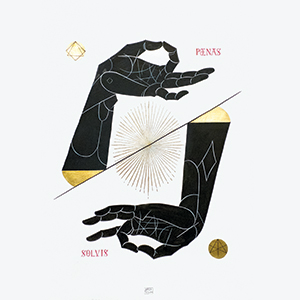 A new group show at Anno Domini presents some of the world's most famous graffiti artists working outside of their comfort zones—with both marvelous and jarring results. When artist and curator Poesia started Graffuturism as an art blog more than six years ago, he never imagined it would evolve into the 75-member art collective it is today.
Rather than seeking to codify a discrete aesthetic, Graffuturism intends to rally its members and audience around a shared ethos. The graffuturism is a community consists of dedicated and forward-thinking street artists and graffiti artists, explains Poesia, who is known only by his nom du plume. 'We all come from a graffiti background, but we all work in different styles,' he says. While there is no expectation of theme or consistent vibe, with Poesia's eye for art and scope, it has grown into a style of its own. It is graffiti, but not graffiti; it's fine art but still very raw.
'It's about pushing your artwork beyond graffiti,' says Poesia, who believes movement is less about art ism's and speculation than action. And it shows in a interesting mix of spectrums that seem complete departures from the artists' signature styles.
With exhibitions featured in galleries all over the world, including Paris and London, the creator of the project—Poesia, a San Jose native—has launched a global movement. Six years since he began, Poesia has brought that movement home for the 'Graffuturism Six-Year Anniversary Group Exhibition.'
The global nature of the Graffuturism brand comes through in the diverse collection of artists in the exhibit. There are only a few American-based artists in the cosmopolitan show—the rest come from a wide swath of countries, including England, Spain, Ukraine, and even Siberia. The pieces in the show all come from Poesia's expanding collection, and are only the tip of the iceberg in terms of the amount of Graffuturism art he's gathered over the years. In fact, he has so much artwork that he's running out of space to keep it.
Legendary Parisian graffiti writer and bomber, Tomek—of the innovative PAL Crew—is known for his wild, incredibly detailed, Disney-esque lettering style. While Tomek's line work seems familiar, the swirling, mellifluous brush strokes on acetate in Gray Color Sponge and 5 Color Sponge make for an elegant step forward in his art.
SABER, one of the most famous graffiti writers in the world, is best known for producing what may be the largest work of illegal graffiti in history: an elaborate, 250-by-55-foot piece on the cement flood-control banks of the Los Angeles River. Yet one would be hard-pressed to find any of Saber's wicked graphic style in his piece, Interactions 2. Free of lining, this modestly sized canvas explores shadows and shapes. It's a striking study in three-dimensional illusion.
Other notable pieces include Poenas Solvis by Basik, a sleek, mystical portrait of gesturing hands, and Arnaud Liard's compositionally astounding piece Out of the Wall. Using a hand-poured mixture of concrete and resin with a nearly imperceptible linen outer layer, Liard creates an eerie, pensive portrait of a man in white and red, which seems to dissolve into its thick concrete base.
With so much talent in one place, it's hard to name a true standout piece from this show. But this is another testament to the varietal but quietly unified exhibition. But even though graffiti futurism has evolved into a style all its own, each of the contributors approached their pieces from utterly different stylistic disciplines. Using house paint, acrylics, oil on glass, paint pens and even cement, 'Graffuturism' offers a fascinating glimpse into a more conventional side of renegade.
Even those who don't consider themselves fans of graffiti may find themselves pleasantly surprised by 'Graffuturism.' It's a step inside and out of graffiti subculture. It stands as both a compelling collection of fine art and a window into the expressive spirits of society's most controversial artists.
Graffuturism
Thru Jun 18, Free
Anno Domini, San Jose