Arts
'The (Anti) Valentine Show' Returns
Works/San Jose presents pieces by local artists who aren't so smitten with V-Day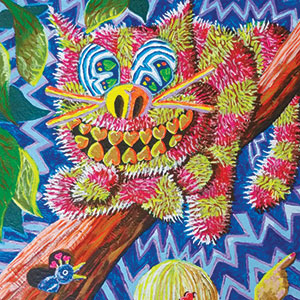 For Mark Martinez, a San Jose-based artist, Valentine's Day is just another Hallmark holiday dreamed up to sell candy and canned greeting cards. Every February, he finds himself wondering about those who don't have a perfect relationship and challenges the definition of love.
"For a lot of people it's almost like a fantasy," Martinez says, noting that unrequited love is a serious bummer. "When one person is in love with somebody, that love is actually not a real thing."
Opening on Friday and running through Feb. 18, "The (Anti) Valentine Show" will be showcasing the work of 150 local artists who have created pieces around themes such as anti-love, anti-hypocrisy, anti-commercialization and anti-objectification. The word "anti" is in parentheses to indicate that artists are welcome to represent a positive side of Valentine's Day if they wish.
"This is a show that we've done a few times before," says Joe Miller, president of Works/San José, the downtown gallery hosting the show. "We've done it about every other year, and each time it's been an open call. Anybody who wants to bring in a piece can be in the exhibition."
Works/San José first introduced the show to the community eight years ago. The inspiration, according to Miller, was to present an alternative view to Valentine's Day. Organizers felt that it was important to show the other side and highlight the feelings of people who feel unloved or anxious about the holiday. Since then, the show has almost doubled in size.
Most of the artists are San Jose locals who are well known around the community. Many have showcased their work in other exhibits in San Jose, but there are also a few first-timers.
Mark Martinez will be returning this year with a piece titled Love Cat <3. He has been creating art for about six years now. His work is mainly inspired by cats; this one has an Alice in Wonderland vibe.
In vivid colors, the cat sits up on a tree, mesmerized by love—with hearts in his eyes and teeth. The feline bears a striking resemblance to the Cheshire Cat. Just like the world of the film, love is nothing more than just a fantasy.
"The (Anti) Valentine Show"
Feb 2-18
Works/San Jose, San Jose
[ https://workssanjose.org/ ]workssanjose.org