Arts
An Orderly Decay
San Jose photographer Jake Fouts documents beauty in disintegration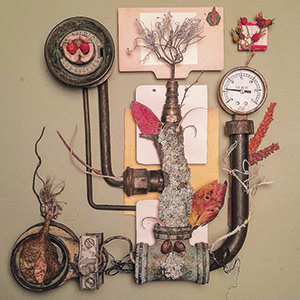 The sinewy, twisting shapes of the natural world collide with the exact geometry of the man-made in Jake Fouts' photography exhibit, "Archetypes," currently showing at The Studio Rock Climbing gym in San Jose's SoFA District.
The seemingly random forms of twigs, branches, and bone-hard angles strike a harmonious chord with the hard angles of metal brackets, the perfectly round circles of hydraulic gauges and the glinting glass casing of incandescent bulbs.
Rust, decay and their shared status as found objects is what connects this assortment of aesthetically arranged detritus, which Fouts—a longtime San Jose denizen and bartender with a passion for photography—meticulously collects, refines and then stages for his earthy still life snapshots of deterioration.
"My main focus was to create images of 'specimens' from manmade and natural objects with a focus on composition, color and context," Fouts, a friend of mine, explains in the title card of his exhibit.
Indeed, Fouts has paid close attention to hue in this collection of works. His palate hews earthward, full of muted yellow-browns, weathered grays and matte blacks. In one image—the largest of the series—oxidized hunks of metal, which appear to have been pulled from the wreckage of some long-ago demolished power plant, are woven together with leaves, chutes, feathers and dried flowers. Moss sprouts from one end of an angled metal pipe joint; on the other end, a vacuum tube peaks out. It looks like the work of some mad scientist from the turn of the 20th century—an attempt to transform the innate energy of plants into electricity, or perhaps communicate with the trees.
The work is in some ways an ode to photography. There is no glue keeping the pieces together and the lens of his camera is what freezes the piece into place. Fouts drew some of his inspiration from the work of Andy Goldsworthy—known for arranging rocks, leaves and sticks into geometric patterns, with a specific attention to color. "The beauty of photography is capturing a single moment in time that will never bee seen again," he explains.
But it's also a reflection of Fouts' fascination with how both the natural and manmade world follow a similar trajectory of degeneration. "I like the thought that things deteriorate in the same way. Whether it's manmade or natural, everything takes on the same color as it decays."
Archetypes
Thru February
The Studio Climbing, San Jose