Arts
Arrow: Engineering Thrills
'The Legacy of Arrow Development' details the local firm's
innovations in roller coaster tech.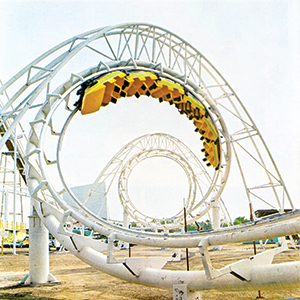 There they were: a handful of black and white photos documenting the first test run of the modern looping roller coaster. "I look at the other crewmates, giddy and smiling from ear to ear," says Kris Rowberry. "This is the only proof it ever happened, and I'm holding these photos, a real piece of Americana."
Rowberry has spent the last year digging up gems like these for his forthcoming documentary, The Legacy of Arrow Development, which chronicles a surprisingly neglected facet of amusement park-and American-history.
It's easy to think you know nothing about Arrow Development. Aside from a smattering of articles across niche websites, and an out-of-print book, there isn't much out there on the amusement design and construction firm, which was based in Mountain View and effectively ceased to exist in 2002. But for anyone who's ridden Disneyland's iconic Matterhorn, the Demon at Great America or even the Mini Putt Putts at Happy Hollow, they've directly experienced a piece of what the Bay Area company produced over its 50-odd years.
Indirectly, Arrow Development's legacy reverberates in practically every contemporary amusement park. To name just one: tubular steel roller coaster track, developed for The Matterhorn by Arrow, is now the standard on thrill rides around the world. In fact, opening day at Disneyland wouldn't have been the same without Arrow, which constructed Autopia, the Mad Tea Party, Dumbo the Flying Elephant, Snow White's Scary Adventure, Mr. Toad's Wild Ride and the Casey Jr. Circus Train.
On a recent, drizzly day, Rowberry and another of his producers, Robert Ingle, are shooting B-roll material at Happy Hollow in San Jose. These theme park obsessives watch as children trace circles in their mini putt-putt cars; Rowberry observes that each car is actually two repurposed Ford bumpers, originally welded together in the '50s by Arrow Construction for the now-defunct Alum Rock Park. One diminutive driver-outfitted with a GoPro for this particular shot-is just as stoked to be behind the wheel as the kids back then must have been.
According to Rowberry, this is all that rollercoaster videography usually amounts to: some low-res digital shots of a particular coaster-uploaded for the vicarious enjoyment of fellow enthusiasts, and few others. This was the focus of the documentary at the beginning, with a proposal to document the legacy of Arrow Development through its particular rides But as the filmmakers interviewed the people surrounding the company, they began to see the human narrative behind the construction. "A lot of people said Arrow rides are magical," says director and editor Nicholas Laschkewitsch. "A lot of them got really emotional about the connections people were able to make with these rides."
And until now, those riders might not even have known who was responsible. It's no exaggeration to say that in many ways, Arrow is responsible for the amusement park industry today, from the boring (product chain management) to the exciting (the roller coasters, duh). The filmmakers have set out to document how four guys from Sunnyvale set all this into motion, in an era before "innovation" was tossed around like cheap popcorn.
The Legacy of Arrow Development
Jan. 23, 7:30pm, $10-$20
Montgomery Theater, San Jose