Arts
The Art of 'Play!'
Palo Alto Art Center encourages patrons to have fun with new exhibit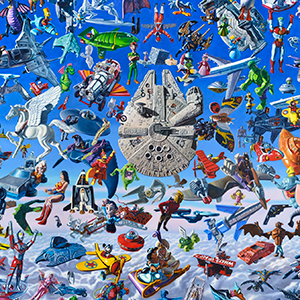 Kids have known it for ages and scientists are finally catching up. Inspired by new studies that show playtime is crucial to our psychological well-being, the Palo Alto Art Center presents "Play!"—an art exhibition that's all about embracing the inner child. "This program came out of the idea that we all need more play in our lives," says Karen Kienzle, director of the art center. Whereas some associate fun and games with immature and even wasteful behavior, perceptions of play have undergone a much-needed shift in our favor.
"We used to think play was 'not working,' but research shows that it's critical to the social and intellectual development of children," Kienzle says. "Play is also really vital for adults, as a form of stress relief but also to promote innovative thinking." In homage to this precious pastime, the art center is showcasing a body of work that speaks to the power of unencumbered imagination. Featuring both local and international artists, it's a show for all ages—whether you're two feet tall or well beyond growing pains.
Each of the 22 pieces on display evoke the spirit of play in some way. The free-floating metallic balloons of Andy Warhol's Silver Clouds installation immerses visitors in a make-believe realm of outer space. In another room, 72 Hoberman spheres hang from the ceiling as part of Berlin-based artist Nils Volker's installation—Bits and Pieces. Prompted by micro-controllers, the iconic toys expand and contract in mid-air, creating breath-like waves of movement through space.
"We want to showcase to people that play is something we all need in our lives," Kienzle says. "It promotes innovation, it keeps us happy and healthy. We're hoping to give people an opportunity to be playful, at least during the time they're in the gallery." The exhibit runs through Dec. 29. Over the course of the show, the art center will hold a series of public programs and hands-on activities for its first ever "Season of Play." The free kick-off event will feature mini golf, art activities, ice cream and a cash bar, among other things.
Kids, bring your adults and show them how to have fun at the opening celebration of "Play!" on Sep. 15.
Play!
Sep 15, 7pm, Free
Palo Art Center, Palo Alto
cityofpaloalto.org