Arts
Artists Including Me:
William Wegman
'Artists Including Me' offers insights into William Wegman's inspiration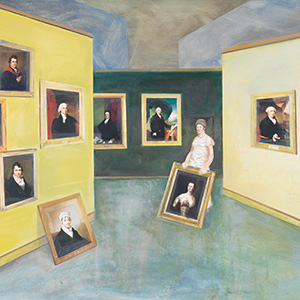 In an untucked, partially unbuttoned, red plaid shirt, William Wegman looks as if he's just left his studio to oversee the final installation of Artists Including Me, now on display in the San Jose Museum of Art's capacious upstairs salon. Curators circle around the artist like the ardent, independent geometries that float around a Kandinsky canvas, each one unique and vibrant in their own right.
At a round conference table in the center of the room, corded charcoal gray iPods display video art that Wegman created for a 2004 Nokia mobile campaign entitled Connect to Art. Like his Weimaraner photographs, the animated GIFs cycle through a series of dogs at rest and at play. If you've only seen the Weimaraner photographs online or in reproductions, standing in front of them alters and ameliorates the sense of artistic achievement. The most recent ones—Weimaraners on mid-century modern chairs—transform both dog and chair into a sculptural other, a strange and lovely beast that's organic and man-made at once.
While Wegman's dog photographs are arguably the most beloved and recognizable images in his oeuvre, they're a fraction of what's on display in this exhibit. And what's on display is a revelation: paintings and photographs inspired by a range of artists from Eadweard Muybridge to Edward Hopper. The largest work, Kandinsky, 2011, is a quadriptych; each of the four panels is 72 inches by 48 inches. Wegman isn't just mimicking an old master here: he synthesizes his own spirit with the psyche of the painters he clearly admires. The color palette he employs for these works is buoyant yet without false cheer or sentiment. In Hopper Origami, 2014, primary schoolhouse colors like red, yellow and blue are contrasted evenly with washed-out browns and whites. The origami of the title is located in the viewer's perspective of a three-dimensional, planar field you want to walk into—a museum that opens outside of itself, into a green-hilled countryside at the painting's edges.
At least three of the paintings are set in museum galleries, or, rather, surreal galleries that have been constructed in overlapping dimensions of the mind. For example, at the center of Reinstallation, 2013, a woman in Jane Austen garb holds the edge of a portrait. She contemplates where to hang it amongst a gallery of her similarly attired painted contemporaries. The image makes complete visual sense while also being delightfully absurd.
On close inspection of Reinstallation and the other gallery paintings, you can see that Wegman has included actual postcards of paintings and then has invented a new world around them.
"That's kind of a little trick," Wegman says, explaining his motive for using postcards instead of repainting the old works. "It provides the snap and focus. When I paint, I set the table with these cards. It's a dance between the exact, calculated perspective leading to a distraction. That's part of the fun, too: to see them and to see how they get lost."
Another sleight-of-hand is a series of black and white photographs inspired by the stop-motion work of Muybridge. Each photograph is a close-up on a Weimaraner body part: elbow, rump, belly. But Wegman isn't recording motion like Muybridge.
"I'm not capturing it like he did it—to show what the real motion was, to show what human locomotion was—where mine is to make sort of a play on that," he says. Without relying on the props of his famous 20-by-24-inch Polaroids, the works in this series are moving because of the intensity of the artist's gaze.
His first dog, Man Ray, died in 1982 but still comes back to visit Wegman in his dreams. "Last week he came back again and I was surprised to see him with all of my other dogs in my dream. I said, 'Where have you been? Great to see you.'"
This is a man who loves his dogs, who can see their vulnerability. Wegman photographs the fragility of their gray flesh as they age out of their bodies. He captures their souls as they dissolve outside of the frame and into a beautiful, perpetual blur.
Artists Including Me: William Wegman
Thru Feb 7, $5-$10