Arts
Asami Akinaga at the CSMA
The Bay Area artist explores her multicultural identity at Mohr Gallery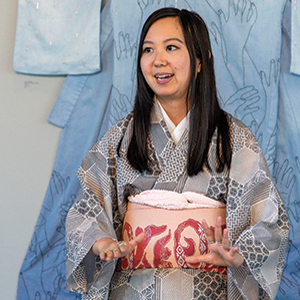 Growing up bicultural in the eclectic narrative of Bay Area culture, local artist and art teacher Asami Akinaga explores her Japanese heritage in her first solo exhibit "Strength: Drawings & Paintings."
Born in Japan's vibrant capital, Akinaga moved from Tokyo to the Bay Area at age 2. But as she spent most of her summers back in her home country, the move did nothing to dampen her ties to her native land.
"I consider myself growing up with both cultures," says Akinaga who refuses to tie her identity to a single building block. "They hear me speak and they assume I'm American now, and I think that's strange because I'm just as fluent in Japanese."
When the opportunity arose for her first solo show, she immediately knew what her story would be. The exhibit features a series of charcoal-and-graphite works, all displaying different elements of daily Japanese life—including flowers and kimonos.
There are also textile works. A blue kimono hung on the wall is embroidered with intriguing black outlines that form a pile of hands, reaching up from the base of the garment to its collar. The piece was hand-sewn, hand-embroidered and hand-dyed by Akinaga and is called Woven Strength. It was the product of sleepless nights and came together with help from her mother and sister.
Growing up in a creative household that always had art supplies laying around, Akinaga cites her family as the reason for her artistic streak. "This show commemorates them," Akinaga says.
In the portrait Contemplation, the detailed lines of her mother's face are enveloped by warm orange hues, which hint at a state of deep, reflective thought.
In "Strength," Akinaga also works to break down some of the stereotypes she's spent her entire life listening to—ones centered around a feminine identity and culture that hit close to home.
She Lets Her Hair Down depicts her sister who has let her wavy locks fall over her shoulder. "I wanted to show the representation that Japanese women have more than just sleek straight black hair," Akinaga says. "She has naturally wavy hair, which is still rare, but it does exist."
As for the stereotype that all Japanese women are submissive and quiet, Akinaga chuckles, looking back at her own family and says, "From my experience, we were so not like that!"
Strength: Drawings & Paintings
Thru Jul 13, Free
Mohr Gallery, CSMA, Mountain View
arts4all.org