Arts
Bill Murray Sings, Recites
American Classics
In his 'New Worlds' revue, the iconic actor teams with cellist Jan Vogler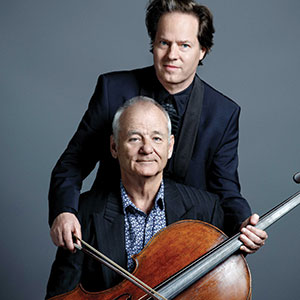 Bill Murray is a hard man to get on the line. The veteran actor, who has starred in so many iconic films—including Groundhog Day, Ghostbusters, Lost in Translation and Rushmore—is also known for having no agent, manager or publicist.
According to multiple articles on the subject of Murray's communication habits, those seeking a comment or commitment from Murray must attempt to reach the comedian, golfer and avid photo-bomber by leaving a voicemail on his secret 800 number.
So, imagine my surprise and elation as I receive word that Murray is willing to take the time to connect via phone. Just a few hours before Metro's deadline, I'm given a number for one of his traveling companions and told he'll be available in about 15 minutes.
After calling the number provided and a bit of chaotic back and forth—What is Metro? Who am I? And just how did I come to be on the other end of the cellphone that was just thrust in front of The Zissou?—we get to talking:
"What's on your mind?" Murray asks.
There are so many ways to answer this question. But chiefly, I explain, I'm calling to discuss his forthcoming performance at the Oshman Family JCC—where he is scheduled to give a performance of his musical and spoken-word revue, Bill Murray, Jan Vogler & Friends: New Worlds, on Dec. 2.
When asked if he might describe the program in his own words, Murray is curt: "Uh...I don't know. I think you have to see it. Do you have any other questions?" It's less than two-and-a-half minutes into the conversation.
Bill Murray, it turns out, is also a hard man to keep on the line.
Fortunately, there's a New Worlds news release, which describes the show as a "spirited one-night-only celebration of music and literature," featuring live music performed by cellist Jan Vogler, pianist Vanessa Perez and violinist Mira Wang. Murray, of course, will be the centerpiece of the night, singing some of his favorite show tunes, like "It Ain't Necessarily So," from Porgy and Bess, and reciting poetry and prose from the likes of Hemingway, Twain and Whitman.
Murray and Vogler developed the idea after a fortuitous meeting on an airplane. The two performers ended up seated next to each other on a flight from Berlin to New York. Murray was taking a break from shooting his 2014 movie The Monuments Men and Vogler was returning to his home in New York.
Over the next few years, Murray invited Vogler to a number of events, including a poetry reading at the Brooklyn Bridge, where Murray recited Whitman's "Song of the Open Road." From there, the idea blossomed and soon the actor and cellist had connected with Perez and Wang and were plotting tour dates. They've performed the show in Berlin and New York and now they are taking the program to multiple venues on the West Coast.
The show, Vogler says, is meant to explore "the great American values" by bringing together an American actor, a German cellist who grew up in East Berlin, a violinist from Beijing and a pianist from Venezuela. "It's a lot of different backgrounds coming together," Vogler says. "I think that has always been a big strength of America."
"We're having a lot of fun," Murray adds. "People are enjoying the show."
While fans of Murray's will certainly be familiar with the actor's deadpan sense of humor, they may be less acquainted with his singing voice.
But to Murray, it's seems obvious that he would be a singer—and not just because he knows himself. "If you know how to sing, you sing," he says. "Even if it's just in the shower, or in the bathtub."
As to why Murray sings, and why he has chosen to sing the songs he does—that's perhaps a bit more complex, and likely tied to who Murray sees when he looks in the mirror:
"Is anybody home here? Am I really here? Or am I just walking around as an accidental or occasional person that comes and goes and is not really bringing much to the party as taking up room and basically decomposing before your eyes? What it's like to be Bill Murray is to ideally, hopefully, remember that. To think that if I'm going to answer for Bill Murray, I better be here when someone calls."
Bill Murray, Jan Vogler & Friends: New Worlds
Dec 2, 8pm, $150+
Oshman Family JCC, Palo Alto
paloaltojcc.org/murray