Arts
Brian Regan Takes His
Comedy Seriously
Wild facial expressions and a squeaky-clean work ethic helped the comedian rise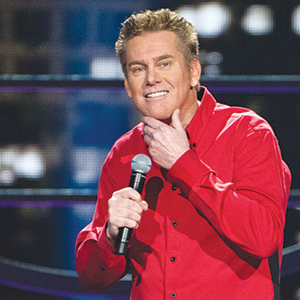 While many comics pepper their stand-up act with profane and vulgar language—assaulting their audiences with social taboos in the pursuit of laughs—Brian Regan goes out of his way to keep things clean.
The strategy has paid off. Over the course of his 25-year career, he has earned the recognition of comedy legends, like Jerry Seinfeld and Chris Rock, and racked up 28 appearances on The Late Show with David Letterman—more than any other comic. He is adept at finding the funny in topics other comics wouldn't bother exploring.
"I look at it like it's a big mine," Regan says, launching into a metaphor about his process. "There's a bunch of other miners in there and the miners are coming out with the pickaxes over their shoulders saying, 'It's picked clean, there nothing left in there!' And I'm like, 'Well, let me go in there, because there might be one last little nugget.'"
Like all comics, Regan pulls those nuggets from his experiences. Lately, he's been drawing up on the things he's learned as a father, as well his past, growing up one of seven children in a funny family.
Though he spends many nights making audiences to laugh with absurdist observations and ridiculous facial expressions, Regan's job is not all fun and games. It takes discipline to pen pitch-perfect punchlines, he says. And he strives to improve with each joke he writes.
"I feel very fortunate that I get to do this," he explains. "I try not to be lazy."
There is a limit to what actively trying can do, however, and many of his best material comes to him only when he has allowed himself to relax and live in the moment.
"Once I try, it doesn't work," Regan explains. "It almost has to happen accidentally. You're in line to check in at an airport, and you look around and see something, and you go, 'Wow! I've noticed this before,' and next thing you know—boom—a little eureka moment happens in your brain where you have a joke."
Additionally, the comedian makes a point to leave some unplanned breathing room in his sets. While the majority of his routines are pre-written and rehearsed, he gives himself room for improvised content.
"I'd rather have grey areas in between bits, because then that makes your act more spontaneous," Regan said.
Regan is booked 26-plus weekends out of the year and is accustomed to audiences who laugh and clap when he opens his mouth. Still, the comedian is gracious and humble over the course of his interview. His true appreciation and love for comedy—in addition to "not really knowing what else to do"—shows through his dedication to his act and to his audience. And his willingness to try new things on stage, without trepidation or fear, explains why he's a favorite among comedians.
"I still care every moment I'm on stage," Regan says. "I would prefer that an audience like a new bit or idea, but that's one of the fun things about life: there are no guarantees. And it's the same thing with comedy. If I knew that every bit would kill, it would be boring. I would rather have that bit of trepidation, a little bit of—not fear—but curiosity, because when you're on stage and you're going into a new bit, it's fun to have no idea what's going to happen."
Brian Regan
Jul 15, 7:30pm, $40- $70
The Mountain Winery, Saratoga