Arts
'Broke', Illustrations by Joe To
New show at the Arsenal features fanciful illustrations by artist Joe To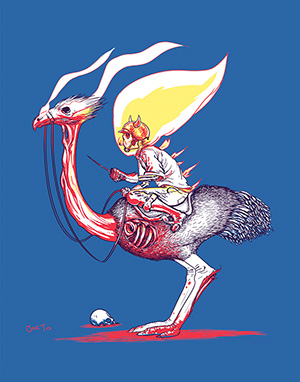 I worry too much", says Joe To, artist and illustrator behind "Broke," a collection of strange and inventive drawings now showing at The Arsenal gallery on The Alameda in San Jose.
A major inspiration for "Broke" is To's interest in the circus world—the culture of carnies, stuntmen, and freaks—that regularly reappears in the drawings serve as a kind of wallpaper/backdrop behind the framed drawings. This creates both an immersive atmosphere and establishes a second relationship between the twisted and colorful forms of the "official" works in the show. To, in fact, spent the entire day and night before the opening drawing the walls. It was an inspired decision.
To's attitude is refreshingly humble. But even a person cynical enough to find an ulterior motive in such humility would be hard pressed to find anything fraudulent about To. He simply likes to draw, and even more, enjoys the research that goes into his subjects. He also likes the '80s TV show Cheers, which he says, was in a roundabout way a big inspiration for the show. While watching a marathon session of Norm and Cliff Clavin, To fleshed out the numerous and varied pieces for "Broke."
Born in Vietnam, To emigrated with his family to the United States following the Vietnam War. The family settled in Minnesota before moving to San Francisco, and then San Rafael where To graduated high school.
The history between To and Sean Boyle, the owner of the Arsenal, goes back long before the art store/gallery existed. As students at Oakland's School of Art and Design, and the last to be picked in roommate selection, they became friends almost by default. "We were asked to put down our favorite movie, and me and Joe both put Star Wars," Boyle says.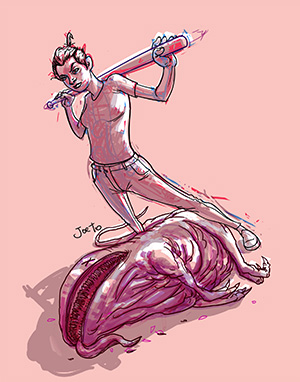 Soon after they moved into a house on 38th Street in Oakland, where they shared space with many artists, including Gilbert Barva and David Choe. The house was crowded and dirty, but as To says, it was "always exciting, always people drawing."
As friends went their separate ways after art school, To needed money. "I was looking for a way to pay off a loan, and got pulled into the first tech bubble," he says. After emerging from the speculative wreckage, To continued to draw but never was comfortable with the business side of being an artist. As some of his art school classmates gained fame—most notably Choe, as a street artist—To continued to do what he liked: draw, doodle, research subjects to draw. And while the presence of a famous friend in the same field causes To some frustration, he says he's still incredibly grateful.
"I'm really lucky to have supportive, talented friends," To says, "otherwise I probably wouldn't be here showing".
"Out of all of us, Joe is the most technical", says Boyle, an opinion To would likely dispute. But there isn't much debate in the pieces showing in "Broke," each drawn with impressive technique, showing a level of mastery in which every paint stroke or pen movement seem careless, yet deliberate. But beyond technical proficiency, To's work is wonderfully imaginative. Each piece is a world in its own, but still retains a characteristic, almost cheeky style—as if a political cartoonist took to drawing comics.
The pieces in the show were created using pen, ink, watercolor, pencil and house paint (for the wall drawings). As for media in general, To says he likes to "use whatever is on hand, whatever space I have." That space includes the walls of The Arsenal. Those backdrop drawings, done in house paint, are of nameless shapes and farcical creatures. The drawings themselves share this tone: macabre but endearing; grotesque, but not without a wink.
As for the future, To is characteristically uncomplicated: "I just want to keep drawing and finish watching the last couple seasons of Cheers."
Broke: Illustrations by Joe To
Thru May 30