Arts
CSMA's Finn Center to Expand
The Mountain View arts organization will bring more arts education, performance to local community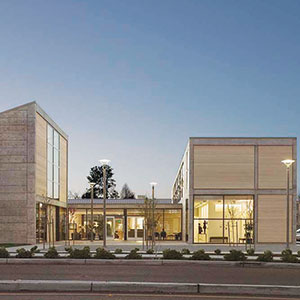 Northern California's largest nonprofit center for arts education is poised to expand. Half a century after its formation, the Community School of Music and Arts (CSMA) continues its mission of making the arts accessible to all children—regardless of financial means—with plans to build a new wing at its flagship location in Mountain View.CSMA's headquarters, known as the Finn Center, serves about 5,000 people annually through art lessons, free exhibits and live music events. During peak hours from 2pm to 10pm, the facility is packed with classrooms full of students and equipment.
"Our on-site base is really maxed out. We're using all of the space that we have," says Sharon Kenney, CSMA's communications director.
Due to a shortage of space, most of CSMA's growth in recent years has been in off-site programs like Art4Schools and Music4Schools, which encompass nearly 18,000 students at over 50 schools throughout the peninsula each year. The construction of a new wing will allow CSMA to increase the number of students it serves on-site, Kenney says.
In 2006, CSMA purchased the land west of the Finn Center with the help of longtime supporters Ruth and Roy Rogers. The property was leased to an auto repair shop until last year. When the shop owner retired, CSMA seized the opportunity to launch a much-needed expansion, with construction slated to begin this fall.
The new wing will be called the "Roger's Wing" in honor of Ruth Rogers, who passed away this past September. The space will accommodate 25 percent more students with classrooms, private lesson studios and a state-of-the-art digital lab, as well as extra storage space for CSMA's robust sheet music and instrument collection.
Parking has also been a major challenge for the school, Kenney says. The expansion will finally address the issue with a new parking lot adjacent to the campus.
CSMA launched a fundraising campaign in December to finance the project, which is expected to cost around $4 million. Seed funders include the Rogers family, the David and Lucile Packard Foundation, the William and Flora Hewlett Foundation, and Stephen Finn.
As a part of its fundraising efforts, CSMA will host a benefit concert on Feb. 25 at the Tateuchi Hall, featuring internationally acclaimed pianist Mari Kodama. Tickets will be available early this month.
In the meantime, anyone interested in supporting the expansion can visit CSMA's website and click on the donate button at the top of the page.