Arts
Time Travelling Chants
Stanford's 'Icons of Sound' project merges past, present and future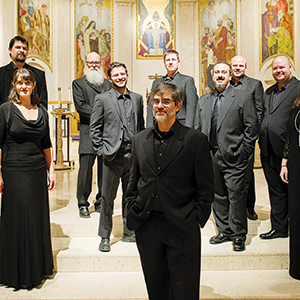 Though the ruminative chanting of Byzantine monks might seem entirely unrelated to the complex mathematics at the heart of modern virtual reality software, the two will come together in a beautiful synthesis this Friday at Bing Concert Hall. On Nov. 4, a Portland choral group specializing in Eastern Orthodox sacramental music partners with Stanford sound engineers to recreate the uniquely reverberant recitations that once regularly echoed throughout Istanbul's famed Hagia Sophia.
The Oregon-based Cappella Romana ensemble is working with Bissera Pentcheva—head of Stanford's Department of Art & Art History—create a multi-sensory experience. Part of the university's "Icons of Sound" project, the aim of the concert is to transport viewers to the iconic and historical basilica.
Originally a Greek Orthodox church and later a mosque, the Hagia Sophia is now a museum. Today tourists from all over the world visit the site to view its Medieval tombs and colorful mosaics, marveling at its majestic architecture. But back when it was the seat of the Patriarch of Constantinople, its large dome and the marble-lined floors of its massive sanctuary were not only a marvel to behold—they also served to amplify and sustain ceremonial chants.
These days, the Hagia Sophia no longer serves this purpose. Since becoming a museum, concerts and musical performances no longer take advantage of the unique, echo-chamber-like acoustics of the space. In this sense, Pentcheva says, it's as if the Hagia Sophia has "lost its voice."
Fortunately, that voice hasn't been forgotten. Several years ago, sound scientists from Stanford's Center for Computer Research in Music and Acoustics were given permission to map the sonic properties of the Hagia Sophia—popping a series of balloons inside the massive hall and taking measurements of the way the sound bounced around the room.
Using that data, the scientists then developed a digital process for reproducing the building's rolling, "acoustic waterfall," effect. Pairing this technology with massive projections of the Hagia Sophia, the state-of-the-art soundsystem inside Bing Concert Hall and the authentic performance of recently discovered liturgical chants, the concert—titled "Icons of Sound: Hagia Sophia Reimagined"—is meant to give listeners a sense of exactly what it might have been like to take in a church service there, back when Istanbul was known as Constantinople. —Taylor Jones
Hagia Sophia Reimagined
Nov. 4, 7:30pm
$30-$50
Bing Concert Hall, Stanford