Arts
The Cantor Arts Center at Stanford holds the first retrospective of works by photographer Carrie Mae Weems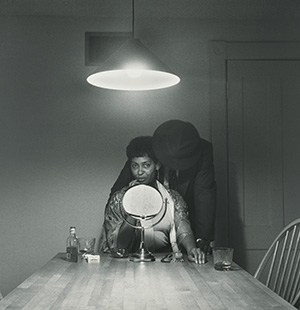 For more than 30 years, photographer Carrie Mae Weems has placed herself in front of her own camera. Taking full measure of her significance as both African American woman and artist, she insists that the work of seeing is also an act of being seen—and refusing to be marginalized.
Born in Portland, Ore., in 1953, she studied dance with Bay Area experimental choreographer Anna Halprin. After several years steeped in arts and politics in California, Weems moved to New York and took up photography. Although she has switched to digital printing, Weems remains committed to the 20th-century art-photo mainstream in her use of black-and-white film.
Stanford's Cantor Arts Center is currently hosting a major Weems retrospective. From her earliest period, First Self-Portrait (1975), a gelatin-silver print, presents an uncharacteristically furtive view of the artist, allowing us only a glimpse of her back as she squeezes against the side of a mantelpiece. Even in this position, she takes the extra measure of covering her hidden face with her hands.
The other selections from the 1970s and early '80s are outward-looking, spontaneous shots of family members and urban life. In Harlem Street (1976-77), a wall of brownstones serves as a backdrop for a frieze of stoop-sitters and street-strollers. The formal architectural composition neatly balances the human parade.
For her epic Kitchen Table series of 1990, Weems casts herself in a drama about a woman's life as artist, lover and mother in a suite of large (41-by-41-inch) black-and-white gelatin-silver prints. The strategy recalls Cindy Sherman's photos of herself in various costumed roles, but the result is more direct—a heightened realism as opposed to Sherman's pop-art solipsism.
Within a single perspective—a view across a wooden table packed in a small room illuminated by a hanging fixture casting a harsh pool of light—Weems inhabits vignettes of domestic turmoil and truce. Snippets of descriptive text enhance the narrative, but the images speak for themselves.
The shot of a man and woman playing cards roils with pent-up tension; the man holds a cigarette to his mouth in a gesture echoed by the woman, who covers her lips as if not quite ready to say what's on her mind. This is no penny-ante game; the stakes couldn't be higher. The wall behind them is filled with images of the black power movement, with a defiant Malcolm X front and center. Women's lib and black lib intersect uneasily.
The most powerful shot in the series is the simplest: Weems stands, confronting us directly, hands pressing on the table, her head brushing up against the merciless light bulb, as if in an interrogation cell. Her gaze hypnotizes—hell, it poleaxes—the viewer.
In some of her later images, Weems again turns her back on the camera, not to hide herself, but to make herself an incarnate muse of photography. The superb Louisiana Project series (2003) includes A Distant View, a black-and-white (in more ways than the literal) tableau of Weems posing on an expanse of grass staring at an antebellum mansion. The composition echoes Andrew Wyeth's Christina's World, but Weems' character, dressed in the garb of a house slave, expresses a very different kind of yearning—perhaps a desire to burn down Tara.
Most impressive of all are four images from Weems' journey to Rome for a series called Roaming (2006). These enormous (6-by-5-foot) black-and-white digital prints follow Weems, dressed in a long black dress, as she gazes at markers of the past, including a pyramid monument and a hillside of whitewashed houses. Finally, she appears alone at the seashore, a small but commanding vertical figure intersected by the smooth horizontal lines of sand, sea and immense sky. She could be both the witness to creation and the last survivor of civilization.
Weems often marries language to her images. At times, the words predominate, as in shots of African Americans accompanied by blunt, almost didactic, jabs at pernicious stereotyping (Black Man Holding Watermelon, 1987-88). She also deploys appropriated and altered materials.
Publicity photos of three famous female black performers (Josephine Baker, Lena Horne, Katherine Dunham) are blown up and fuzzed out, telling us that they are fading, unfairly, from our collective memory. In another series, she has made enlargements of 19th-century "ethnographic" portraits of African tribespeople and American slaves, then tinted them blood red for shock effect. The overprinted titles are painful: "A Negroid Type," "You Became a Scientific Type." What the original photos did to dehumanize their subjects, Weems undoes by demanding a second look.
The exhibit also includes three videos, the best of which, Italian Dreams, expands on the material in the Rome photos. Weems wanders through gardens and historic buildings observing and participating in enigmatic encounters. Less Fellini than Antonioni in its sense of ennui and slow mystery, the 10-minute video is really a condensed gloss on Last Year at Marienbad.
The range of Weems' multimedia works impresses, but they are peripheral to the artist's rigorous, penetrating self-images. She is her own best subject.
Carrie Mae Weems: Three Decades of Photography and Video
Runs through Jan. 5 at Cantor Arts Center Stanford