Arts
Cheech Marin to Discuss New Memoir at Kepler's Event
Original stoner comedian looks back at his long career
in 'Cheech Is Not My Real Name'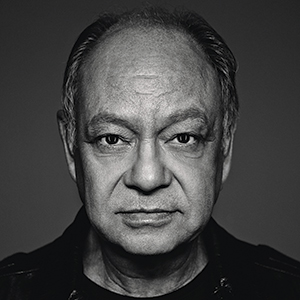 Richard "Cheech" Marin and Tommy Chong came up with the "Dave's not here" gag by accident. While Chong fiddled with a new tape recorder, Marin went outside to start an improv bit. When Marin knocked, Chong wasn't sure the recorder was working, so he stalled, prompting the genuine frustration from Marin.
Turns out, they'd been rolling the whole time. But that half-minute of spontaneous brilliance had been the result of years of practice.
"You get hit by dumb luck standing in the middle of the intersection waving your arms," Cheech says over the phone. "But prepare, prepare, prepare. It's like being a pinch hitter. At some point, [someone tells you], 'Go in and hit a home run.'"
That anecdote is a sampling of what's in Marin's new memoir, Cheech Is Not My Real Name But Don't Call Me Chong. The book gives a glimpse into the mind of a policeman's son turned counter-culture icon.
One of the book's best passages centers around the first time he smoked pot. In the chapter entitled, "What Else Have They Been Lying About?" Marin recounts getting "high as a motherfucker" while finding a new appreciation for the stylings of jazz flutist Herbie Mann and laughing uncontrollably with his college buddies. Then he unfurls his theory on the effects of the now-legalized drug.
"I have always found that marijuana is an enhancer of whatever state I am already in..." he writes. "What marijuana does, among other things, is change your perspective. It slows things down and you get to see them in another light, from another angle."
Unfortunately, much of Marin's memoir lacks the verve expected from the comedy legend (former ESPN editor John Hassan is thanked for being a "talented collaborator"). It's also too short on details.
For example, when Marin worked as a small-time reporter, his first assignment was interviewing Little Richard. After a "rollicking, hilarious" performance, he ends up in Richard's dressing room, where they discover a mutual interest in smoking pot. When Richard unveils his "scraggly Mexican weed," Marin produces a chunk of hashish, and this is his account of what happens next:
"Without further ado we proceeded to get high with Little Richard. Richard told more stories but at some point he realized that we actually were journalists and that nothing else was going to happen. He yawned and said that he had to get some sleep and wished us a merry good-bye."
That's it. In similarly disappointing fashion, he describes interactions with Richard Pryor, George Clooney and Gabriel García Márquez, among other celebrities. It's especially disappointing because Marin has demonstrated he's capable of more. Over the course of his long career, he has collected Chicano art for 30 years and displayed his private collection in more than 50 museums—a basically unheard-of feat. And, as a self-taught scholar, he whomped CNN's Anderson Cooper on Jeopardy.
"He couldn't believe that I beat him," he says of his trivia show triumph. "He was in shock. But I've always enjoyed taking advantage of being underestimated."
He doesn't take full advantage here. The memoir pales in comparison to comedian Norm MacDonald's Based on a True Story, which blended his real life with surreal digressions into vivid fiction. Marin's book gives a laundry list of career milestones and people met, but only occasionally delivers on its tacit promise to let the reader think and live vicariously through its author.
Still, I can't blame Marin for putting this out. It's hard to resist a publisher backing a dump truck full of money onto your front lawn. It's also a start on a "writing phase" he wants to begin now that he's "of appropriate age—a million." (He's actually 70). Although it's less obvious in his writing, Marin remains an engaging, thoughtful entertainer determined to raise the visibility of Chicano artists who have long been under-heralded.
Attending his stop in San Mateo is a chance to shake hands with living history. Plus the memoir's jacket art is fun—depicting Marin smashing a pinata of his younger self and unleashing an explosion of candy and joints. Beyond the cover, however, it feels like Cheech is barely there... man...
Cheech Marin
Mar 31, 7:30pm, $20
San Mateo Performing Arts Center