Arts
Chromatic Coffee Hosts
Art & Music Showcases
This month's art show features the work of Nikkea Takagi,
one of the owners of Black Arrow Printing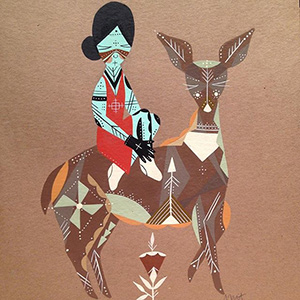 Bean Tupou, a barista at Cupertino's trendy third-wave java joint, Chromatic Coffee, leads a double life as a tastemaker in San Jose's DIY art scene. A founding member of the punk collective Think and Die Thinking and guitarist-vocalist in the indie rock band Try the Pie, Tupou is also one of the people responsible for booking Chromatic's music and art showcases. Alongside Chromatic roasters Hiver van Geenhoven, Donald Miguel and manager Otessa Crandell, the artist-activist organizes a monthly series of art receptions, held the first Thursday of every month at the coffee bar.
The artists, most of them Bay Area denizens, are given an autonomy they may not receive at other venues. They control the setup of the installation, keep 100 percent of the money made through art sales and design a limited edition bag of coffee sold by Chromatic at the opening. As a devotee to the DIY scene and its ethos, Tupou wouldn't have it any other way.
"Art is art, and I see many similarities between the attitudes that musicians and visual artists share about debuting their work," Tupou says. "There's the same kind of vulnerability. What was once intimate and personal is public. And we try to support artists as much as possible during that time."
Another aspect of DIY and punk that bleeds into these shows is their accessibility. The Chromatic shows are all-ages and free of charge. After the opening reception, the art remains prominently displayed in Chromatic until month's end. It is then given to buyers or returned to the artist.
A challenge to that accessibility is Chromatic's Santa Clara location, making it popular among Apple employees. "I realize the location is not ideal for punk kids in East Side San Jose," Tupou says, "and we're aware of our [prominently techie] customer base. But we try to make music and art showcases as accessible as possible, and always work hard on maintaining a safe space."
This month's art show features the work of Nikkea Takagi, one of the owners of Black Arrow Printing. Takagi's work is made up largely of intricate line-paintings of people and animals reminiscent of Navajo art. The highly geometric "building blocks" of Takagi's work shapes beings in harmony with nature. Patterns like a night sky are part of a larger organism, which in turn is part of the tapestry of the world around it. It's her first solo show, and Tupou and the rest of Chromatic Coffee are excited to debut it.
Nikkea Takagi
Aug 6, 6pm, Free