Arts
'Cinderscape' On Display
at Empire Seven Studios
The work of of Jaime Lakatos, now on display at Empire Seven Studios,
explores nature's perseverance in the face of destruction and disaster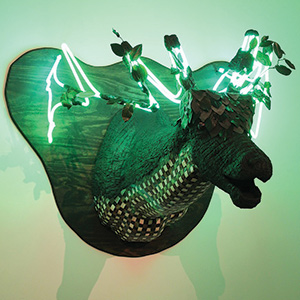 Thoughtful, surreal and magical, the latest exhibit at Empire Seven Studios—Cinderscape, by Oakland-based artist and designer, Jaime Lakatos—explores the devastating impact humans have had on the natural world.
Lakatos' art is both disturbing and familiar—all dusted with a touch of fantasy. Her sculptures of animals are brooding, dark and sometimes ambiguous. Some are spotted with patches of real fur; others support stuffed birds on their backs; all feature a texture reminiscent of charred wood.
While her twisting, blackened statues and busts are disconcerting, her paintings are sleek and elegant. These white canvases, populated with clusters of animal forms, offer a quiet, peaceful respite from the destruction and dystopia present in her sculptures. But even then, there is a finality lurking in the brightly patterned drawings that creates a continuity with her three dimensional works.
Lakatos' art laments the destruction of our natural environment—her charred sculptures bearing small fragments of the life that once was; the bright patterns woven into her paintings represent the tenacity and vibrancy of the life that still is. The experience is both beautiful and unnerving.
As a graduate of The Rhode Island School of Design, as well as a decade-long employee of the Oakland Museum, Lakatos' long history in the art world is evident in the sheer scope and intricacy of her work. Her interests also inform her art: the human body, the natural world, cabinets of curiosities, and other oddities.
On average, each sculpture takes a week to complete, Lakatos says. Though the surfaces of her effigies appear to be charred wood, they are, in fact, composed of plaster, sawdust and graphite. The trick to replicating the texture and color of burnt branches is in randomness, she explains. It's an effect that is quite difficult to achieve purposefully. "Plaster sets quickly," she says, "so there's no room for mistakes."
There is also the quasi-taxidermy work required to give her sculptures their jarring semblance of life. Using methods learned from a taxidermist friend, Lakatos did everything from rehydrate moths to bending neon tubing into the shape of glowing elk antlers to fully realize her art. Some of the animals used (all of which died of natural causes) include butterflies, moths, birds and a red fox.
Lakatos' work can feel menacing, but it's not deliberately so. If anything, her sentiments are mournful. Cinderscapes is a look at the seemingly inexhaustible willfulness of life—and it's ability to persevere in spite of cruelty and human folly.
Cinderscape
Thru May 29, Free