Arts
'Bella Gaia' Honors Mother Earth
Multimedia show at Hammer Theatre Center fuses music, sweeping views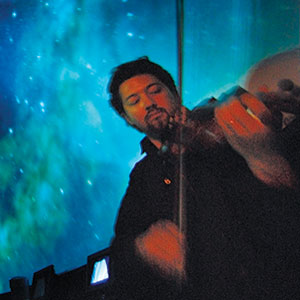 Fifty years ago, a single photograph changed the history of human consciousness.
It was called "Earthrise" and it was a full-color shot of the Earth taken on Christmas Eve by an astronaut on the Apollo 8 lunar mission, soon to be widely published around the world. It marked the first time the human species had gazed at the one and only life-sustaining planet in the known universe.
On Friday, composer and filmmaker Kenji Williams is looking to push the sense of wonder first sparked by "Earthrise" into a new dimension with his live performance/multimedia show called "Bella Gaia." The show, to take place at that Hammer Theatre Center in San Jose blends together the high tech of bleeding-edge data visualization with the low tech of live dance and music to simulate that sense of poignant majesty that many astronauts report when they see the Earth from space for the first time.
Williams says he was inspired to create "Bella Gaia" after a conversation with astronaut Mike Fincke, who spent more than a year aboard the International Space Station. "He told me that before he went into space, he was a planetary scientist and his favorite planets were always Mars or Jupiter or Saturn. But once he went into space and looked back at the Earth, he completely fell in love and Earth became his favorite planet. It was a very simple story that struck me very deeply with its simplicity and beauty."
Scientists even have a name for the phenomenon. They call it the "overview effect," the realization of the beauty and fragility of the planet when seeing it from space.
"Bella Gaia" is at its core a simulation of the overview effect. But it's a lot more than that, too.
Williams uses data-visualization technology to show vivid illustrations of, for instance, how much of the Amazon River basin is burning at any given time, or the effects of the most recent drought in the Western United States. "It's like a weather report of all human and natural activity on the planet," Williams says.
Behind it all is live music and dance Ð Williams himself on violin, other performers singing and playing other instruments. Famed oceanographer Sylvia Earle will also be part of the evening.
"I want to create the Cirque du Soleil of social impact," Williams says. "I think there is a market for a form of entertainment that is much deeper. This is a new kind of ritual for today's world, because humans are forgetful, and we need to be reminded of our place in nature." —Wallace Baine
'Bella Gaia: A Poetic Vision of Earth From Space'
May 11, 7pm, $29+
Hammer Theatre Center, San Jose
bellagaia.com