Arts
Corporations Are Artistic, Too
'Creativity on the Line' considers the value of commercial art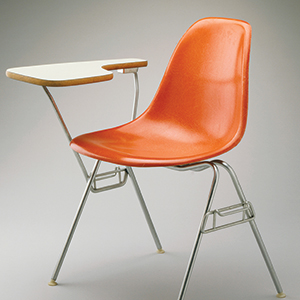 It would be criminal if the optics weren't spot on for Creativity on the Line: Design for the Corporate World 1950-1975. Rest assured, no graduate student from The Stanford d.school or the California College of the Arts should be able find fault with the presentation. Cantor Arts Center's new exhibit celebrates work created by both graphic and industrial designers.
As such, even the fonts on the wall text have been meticulously chosen.
The objects themselves have been thematically arranged in clear plastic boxes. There's even a white porcelain sink with a chrome faucet polished clean, a cheeky salutation, perhaps, to Marcel Duchamp's Fountain, which kicked off the dada movement 100 years ago. Stenciled in temperate colors, pull quotes from design heroes like Walter Paepcke adorn the back wall of the wide-open gallery. But the central question of theses past and theses yet to be remains the same: if design is made in service of, or in servitude to commerce, is it art?
The answer is varied. Take the post-World War II era of branding for companies like Mobil, IBM and Westinghouse. There are superlative examples on display of what we now call "design thinking," the fine art of logo iterations, color chips (the precursors to Pantone fans) and creative briefs on the formation of corporate identities. Without someone as talented as Eliot Noyes, a Harvard-trained architect and designer, it's arguable that the IBM brand would not have made such a deep impression on the American consumer.
It's not much of a stretch to connect the emergence of instantly recognizable corporate names, humanized by advertising campaigns, with the 2010 Supreme Court decision Citizens United v. Federal Election Commission, the one that gave corporations the same rights as individual citizens. At the behest of management, designers make titans of industry appear benign with complementary, primary colors and friendly, rounded fonts. Creativity on the Line doggedly pursues the question, "Are corporate designers simply sell outs?"
The presence of Sarah Little Turnbull's safety mask for 3M provides a resounding "no." An example of one hangs next to a black and white corporate video explaining its ability to counter the inhalation of polluted air. Other utilitarian objects of all varieties may be profitable for businesses solely seeking capital gains but that doesn't make them any less useful or, in some cases, less beautiful to behold. What makes the difference between something's practical application and its aesthetic value is the addition of time. A red drill, a black rotary telephone, typewriters, chairs: they all look like objets d'arts here mounted on stands or shining under white lights.
Creativity on the Line also considers interiors and exteriors, the physical spaces and rooms where designers employ their imaginations to do their jobs. If the workplace itself is uncomfortable or claustrophobic, then productivity might be hindered, or so the thinking goes. In the exhibit catalog, Louise A. Mozingo's essay "Building Modernist but Not Quite Corporate Design in the Postwar Suburb" examines the migration of businesses to "suburban peripheries." The accompanying photographs feature immense office parks in quasi-rural settings built decades ago. The owners justify the monumental scale of the buildings as symbolic marriages between "capitalist commerce and beautiful landscapes." It's no wonder she draws parallels to the expensive, expansive campuses built by their contemporaries: Facebook, Google and Apple.
Corporate designers may be tethered to their bucolic grounds, bright orange Eames chairs and the lure of regular salaries, but the process of design itself can still continue to be playful and fun. At least according to the graphic designer Saul Bass. His 1968 short film Why Man Creates attracted museum patrons and museum guards alike. In the film, Bass also makes clever use of the medium's facility for quick edits. A pair of hands cracks open an eggshell. Its albumen and yellow yolk fall out. Cut to a second egg: this time black ink gushes out. Cut to a third egg: a dazed butterfly pauses then takes flight. There isn't a better, or more delightful, metaphor for the evolution of an artist's creativity. They take the everyday (an egg), apply their materials (ink, in this case) and, transformed, their work flies out into the world. Unfortunately for corporate designers who are interested in paying their rent, the beautiful things they make may only help the rich get richer.
Creativity on the Line
Thru Aug 21, Free
Cantor Arts Center, Stanford