Arts
A New MACLA Exhibit Explores the Shaping of the Latino Identity
MACLA is showing a collection of work by Latino artists that focuses on
the ways Latin Americans have customized their possessions, their homes and themselves to reflect their identities.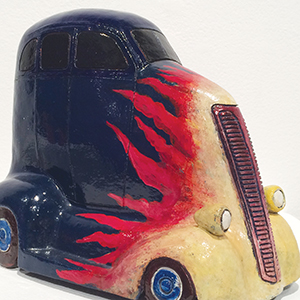 The immigrant experience is one of perpetual reinvention, as well as enduring remembrance. It is a constant struggle between the desire to assimilate into a new culture and retain a sense of what came before.
In an effort to strike a balance betwixt the traditions of the motherland and the customs of their new home, immigrant communities invariably create hybrid languages, new genres of music and unique styles of art.
In Latin American culture, these mash-ups can be seen in the vernacular of "Spanglish," the sounds of Rock en Español, and in the group exhibition, "Custom Lives: Rasquache Renaissance," now on display at MACLA—or Movimiento de Arte y Cultura Latino Americana.
The San Jose-based gallery, performance space and community organization is currently showing a collection of work by nine Latino artists—all of it focused on the ways in which Latin Americans have customized their possessions, their homes and themselves to reflect their blended identities.
The exhibit, which runs through spring 2016 leads up to a March performance of the one-man show '57 Chevy. The stage piece by artist Ric Salinas and comedian Cris Franco explores the development of a Latino immigrant family over multiple generations, as they move from the barrio to the suburbs.
According to Joey Reyes, curator of engagement and dialog at MACLA, the piece takes its name from the car that was used to transport the family from one country to the next, and which comes to symbolize both social mobility and a way into American car culture.
Cars factor big into the "Custom Lives" exhibit. As Reyes explains, Chicano lowrider culture grew out of a merging of Latin American aesthetics and the U.S. fascination with hot rods.
A piece of ready-made art by Carlos Rol—n, a.k.a. Dzine, is a collection of lowrider rims, arranged in the pattern of a lotus on the wall. Constructing the piece for the artist—who directed Reyes and his team remotely—required that they go to lowrider clubs to find the appropriate rims. "It took us to communities that we never go," he says.
Gilbert "Magu" Luján shapes cartoon-like classic cars from clay. Betsabeé Romero also has a flowering pattern up on one of the gallery's walls. Her piece is constructed mostly of car mirrors and symbolizes moving forward and back through time and space.
"For her, the vehicle is also about migration—moving across borders, moving across space, moving across time," Reyes says of Romero's piece, pointing to the Mesoamerican symbolism painted on the mirrors, such as the snake eating itself, alluding to the notion held by many pre-Columbian religions that time is cyclical.
Cars are not the only jumping off point for the work displayed in the "Custom Lives" exhibit. Ana Serrano uses cardboard to craft brightly colored reconstructions of the security gates, which protected the doors and windows of the homes in her neighborhood.
"It's taking the thing that could be synonymous with danger and still having some way of trying to camouflage it," Reyes says. "It's like you know there are issues of security in your neighborhood, but still there are the aesthetic concerns of how it functions in your space. How do you camouflage something that you live with every day to transcend these issues of security in your neighborhood?"
All of the work on display in the current MACLA exhibit is part of a broader tradition known as rasquache—a term, which Reyes says was once derogatory.
"It means 'discarded' or 'throwaway,'" he says. However, in the context of rasquache art, it means "creating something out of nothing—using discarded materials and imbuing them with meaning."
For impoverished immigrant families, who were coming to the United States from Mexico, Central and South America with little more than the clothes on their backs, repurposing discarded materials often made all the difference, he says. People fashioned planters out of old tires and planted flowers in them, for example—making a space for something beautiful out of something that would have otherwise just ended up in the dump.
Custom Lives: Rasquache Renaissance
Thru Mar 13, Wed-Sun 12am
MACLA, San Jose