Arts
Review: 'Daddy Long Legs'
Love letters drive this tale of long-distance romance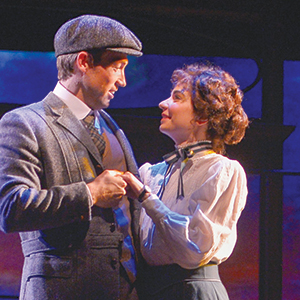 Sometimes the best intentions have the strangest consequences.
TheatreWorks' newest musical production, Daddy Long Legs, explores the nature of a charitable relationship as it gives way to something more intimate. Based on the critically acclaimed 1912 novel Daddy-Long-Legs by Jean Webster, and the subject of numerous film versions—most notably with Fred Astaire and Leslie Caron—TheatreWorks Silicon Valley's original production premiered in 2010 to glowing reviews. Now, after a few years of national runs, a Broadway appearance, and international forays through London and Tokyo, Daddy Long Legs is back to its home base.
The bookshelf-lined office set is lit with electric candles; there's a desk and a large bay window at its center. Beyond the window, lush projections flash and flicker, underscoring each scene and song.
Jerusha Abbott appears on stage, dressed in a ratty blue apron, starting the show abruptly with the song "Oldest Orphan," bewailing her status as the oldest kid in the orphanage. Soon after the usual round of prospective parents depart, leaving her disappointed yet again, Jerusha sees the silhouette of a man with gangly legs at the door of the orphanage. Jerusha learns that the mysterious visitor has left her an extraordinary letter informing her that he will pay for her college education.
Mr. Smith, as he signs the letter, only asks that she regularly write him letters describing herself and her new situation. Jerusha is quickly off to college with a new lease on life she could have never imagined. Soon, her constant letter-writing brings Jerusha and her anonymous benefactor closer to each other than ever, leading to a heartfelt exploration of an intimate—albeit long distance—relationship.
Music is the crucial factor in Daddy Long Legs, and TheatreWorks wows with an understated but innovative and enthralling production. The repertoire of songs is varied in tone from solemn to soaring, but all have a familiar undercurrent that makes them instantly memorable. Piano and violin dominate the score, providing the momentum for sweeping melodies. While the compositions have an old-fashioned feel, they are organized as relatively contemporary arrangements, avoiding the overwrought, sing-songy nature of many musicals.
The same can be said of Hilary Maiberger (Jerusha) and Derek Carley (Jervis). Both actors tackle unconventional harmonies and engrossing duets almost seamlessly. Maiberger has a strong voice—crystal clear, yet powerful—and she can hold a note forever. Carley, as Jervis, has a warm, timorous voice that ultimately compliments Jerusha, whose intonations carry the show.
The overall motif of the production is equally compelling. Even though Jerusha and Jervis are in separate locations most of the show, they share the stage in a fascinating and symbolic organization. As the plot follows the content of her letters, they spontaneously trade off narration and singing without any sense of confusion. Often his narration complements her intentions, giving the letters a different perspective. Overall this organization plays deeper into the symbolism of their intense, but segregated, relationship.
Pulling off a two-person show—much less a musical—requires a strong mixture of chemistry and organization, not to mention voices to match. Luckily, it's a breeze for both characters. Jerusha is precocious, funny and ferociously idealistic—a trait that plays well against the less emotionally adjusted Jervis. And Derek Carley plays the anonymous benefactor with an understated astuteness. He is quick-witted and wise, but bordering on austere; it's only her vitality that can bring out his tender, more amiable side.
Though the show has laughs—many, in fact—there is an overriding sense of poignancy. But that doesn't detract from the humor. Instead, it gives dimension and depth to the typically feel-good nature of the musical. Daddy Long Legs is also a highly symbolic story, using physical and compositional elements to act as illusions for the revelatory but isolated relationship. Like the letters, many aspects of this meticulously thought-out production act as designators for the exposure and unraveling of both of their lives to each other—making for a charming experience over all.
Ultimately, Daddy Long Legs is as much a character study as it is a musical, and it succeeds on both counts. By combining a whip-smart sense of musicality with an intimate and able cast, TheatreWorks Silicon Valley has produced a dreamlike and earnest study of a unique kind of love.
Daddy Long Legs
Thru Dec 31, Various Times, $35
Lucie Sterne Theatre, Palo Alto