Arts
Don't Go Out of Your Way for Dalí17
The recently opened museum features some fine work, but is cluttered, poorly executed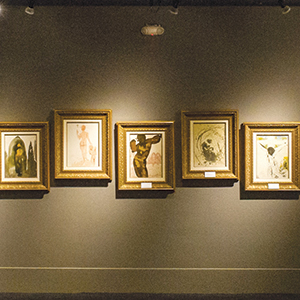 The Picasso museum to end all Picasso museums is the one located in the Hôtel Salé in Paris. Someday soon when Picasso himself rises from the dead to inspect the state of his oeuvre, he'll make a beeline to the Musée Picasso on the rue de Thorigny. The artist will find his paintings and sculptures displayed in thoughtfully curated rooms filled with light. As a spectator, he'll be able to take in each work of art within a contemplative space. Like the other visitors there, the undead Picasso will stand, arms akimbo, as he recalls his Blue Period or any number of self-portraits.
But on that eerie night when Salvador Dalí revivifies his own heartbeat, paying a visit to Dalí17 would surely cause his erect and infamous mustache to suffer from a severe and persistent droop. To the uninitiated, Dalí17 is not a museum. Rather, it's a private collection of lithographs and etchings on congested display in the building that formerly housed the Monterey History and Maritime Museum. Aesthetically—and, since the artist trucked in the murky corners of his unconscious life, perhaps appropriately—it's a nightmare.
From the entrance hall, what catches the eye at first is Dalí17's approach to the use of space. The walls themselves are painted in a heavy shade of gray, reminiscent of the color that rises from a factory smokestack. Upon this off-putting facade, there's a terrible uniformity in the placement, size and style of the frames. Rows and rows of lithographs are stacked on top of and next to each other with barely centimeters to spare. The phrase "less is more" is left for burning.
Almost without exception, each lithograph is surrounded by a white mounting board, the kind frequently suggested at unimaginative frame shops. As for the frames themselves, they make a single statement repeated endlessly, and it's one told in rococo filigrees of bronze and gold. To say they detract from the works themselves is an understatement.
The curators of Dalí17 didn't have enough confidence in the original lithographs to allow the works to speak for themselves, or they were overconfident in their framing tastes. In either case, Dalí's work suffers as the eye strains to compete with the busy walls and the brashness of every frame. Many of the galleries are arranged by Dalí's literary influences. It is fascinating to learn that they range from Cervantes' Don Quixote to Isidore-Lucien Ducasse's Les Chants de Maldoror. This discovery, though, inspires a trip to the library, rather than encouraging a visitor to stay and gaze and linger.
Dalí17
5 Custom House Plaza, Monterey