Arts
Art or iPad Ad?
New gallery showcases Apple product's abilities as well as Hockney's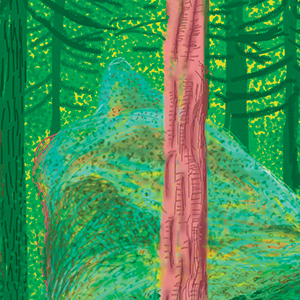 Like the "shot on iPhone" ad campaign that resurfaces every few months on roadside billboards, the iPad drawings of David Hockney's The Yosemite Suite make a similar argument. They advertise the singularity of the Apple product in lieu of the works themselves.
Instead of leaving the means of production vague, i.e., a mobile device, the iPad is credited as an equal partner in Hockney's creative process.
This isn't necessarily suspect but it does raise the question: is The Yosemite Suite a not-very-well-disguised commercial for an Apple product?
This is the British-born, L.A.-based artist's second collection of iPad prints to make their way to the Bay Area. The first, The Arrival of Spring in Woldgate, East Yorkshire in 2011, travelled to San Francisco's de Young Museum in 2013-2014. Hockney drew those images in the countryside near his childhood home. They show the specific details of someone familiar with the place, someone who has walked those paths and lanes on hundreds of different days.
In an expanse of green flora about to blot out the sky, he draws an equestrian-crossing sign outlined in red; a many-limbed tree riotously blooming in all directions; and a crumbling stone wall on a curving, rose-colored road cluttered with unidentifiable, fanciful detritus. Hockney is in complete command of his hands and his palette. He's transforming East Yorkshire with his imagination, but the drawings are still identifiably in Woldgate, East Yorkshire. The artist makes a less convincing case with The Yosemite Suite now on view at Pace Gallery Palo Alto.
Most of the gallery is filled with smaller, framed prints (37" x 28" retailing for $20,000 each). With few exceptions, the drawings of trees, mountains, or trees and mountains, are vividly colored yet one-dimensional in their effect. You can admire the daring magenta redwoods as they edge upwards from an orange earth in Untitled No. 4, but this is a fantasy landscape. Hockney is drawing a heightened version of Yosemite, one that resembles the place in outline only. The loving details from The Arrival of Spring have mostly gone missing. In comparison, some of the Yosemite prints look like sketches, ideas in process or not fully formed. The standard book of postcards for sale reinforces the commercial imperative: the digital files of these drawings are standing by for reproduction, to hang in the air as innocuously as Muzak in corporate office lobbies and condominium kitchens.
This sunniness, usually such a refreshing aspect of Hockney's work, acts as a narrative flattener here. The lone story he wishes to tell comes adorned with an unwritten tagline: "Isn't Yosemite a gorgeous place to visit?" With this one question in mind, there's nothing to disagree about, and even less to contemplate. When visitors actually do show up outside the famous stone facade of the Grand Yosemite Hotel (formerly the Ahwahnee) in Untitled No. 1, the work feels livelier, that the artist is drawing a less generic place, even if it's from the removed distance of a luxury hotel. This isn't a Yosemite populated with insects or snakes, scat or bears.
With the four large-scale prints (92-3/4" x 69-3/4" for $125,000 each), Hockney achieves something more elusive. The sense of scale, where art can meet the monumentality of nature, stands corrected. October 5, 2011 was particularly productive for him. He drew Yosemite I, II and III on that moodier day (or at least the title is attributed to that day). In I and II, Hockney jars the landscape with clouds, adding in a sense of mysticism. He hazes over a copse of trees in III with a fine, gray mist. Something of the man himself makes it onto these canvases. The landscapes flicker with an undeniable emotional weather, where the wilderness can still keep, as the late art critic John Berger once put it, "the uniqueness of the single place where it is."
David Hockney
Thru Jun 11, Free
PACE Palo Alto