Arts
'Dead Man's Cell Phone' Rings True, But Doesn't Live Up to Premise
'Dead Man's Cell Phone' is set in a time after mobile tech had become
omnipresent, but before the advent of the smartphone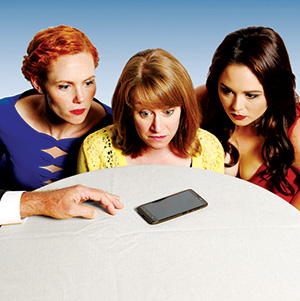 If you found the ringing cell phone of a stranger, would you answer it? It's obvious that Sarah Ruhl's Dead Man's Cell Phone was written during the time when mobile telephones were omnipresent but before the era of the smartphone. The script's frequent mentions of the background noise of ringing phones and the irritatingly loud conversations of strangers are no longer so relevant now that most folks seem to use their phones to type, swipe and silently scroll.
I wasn't quite sure what to make of Dead Man's Cell Phone, and, judging by the remarks I overheard afterward and the appreciative but somewhat subdued applause, neither was the rest of the audience at the Bus Barn Theater, where the 2007 play is being presented by the Los Altos Stage Company.
The show explores the question of how people can remain both more and less connected to one another in an increasingly complex modern world, including introducing the notion that cellphone conversations are audible in the hereafter. (Must be a powerful network and plan. The old Verizon "can you hear me now?" ads come to mind.)
The plot is certainly very intriguing. In a quiet cafe, a man's cellphone rings repeatedly. A woman, Jean, (Kristin Walter) sitting nearby tries to ignore it, then becomes annoyed. She first attempts to question the man to whom it belongs (sitting still, his back to the audience), before realizing that she's talking to a corpse.
Shocked, but still faced with his incessantly ringing mobile, she decides to answer the calls of the recently deceased stranger and, oddly, hangs on to the phone even after the authorities have removed the body. She answers calls from his family, friends, and business associates and soon becomes semi-obsessed with the late Gordon Gottlieb. She inserts herself into his life under the false pretense of having been his friend and co-worker, and beneficiary of his phone and contacts.
She continues to dig herself deeper by offering more and more lies, always out of good intentions—such as telling his drama-queen mother (Judith Miller) that Gordon had tried to return her call on the day of his death; or telling his estranged widow Hermia (Marjorie Hazeltine) that her husband had left her affectionate letters; and telling his femme-fatale mistress (Adrienne Walters) that he'd said he loved her.
She feels sparks fly with Dwight (David Scott), Gordon's neglected kid brother, but finds that her fixation on Gordon and his phone calls is a stumbling block to their budding romance. She also eventually learns that Gordon, whom she'd begun to idealize, did not lead a saintly existence and was involved with some pretty dark pursuits. During the second act, we get to hear from Gordon himself (the splendid Scott Solomon) in an excellent posthumous monologue.
Ruhl's surreal story takes her characters from the U.S. to South Africa—and from Earth to the afterlife and back again—in what is often a quirky and outlandish comedy with supernatural elements and film noir style.
There's much to admire in this offbeat show, including well-turned lines by Ruhl, such as when Mrs. Gottlieb tells petite Jean she's comforting, like a "very small casserole"; the humorous on-set projections of select stage directions; and the winning performances of everyone in the small but generally strong cast. And it's a promising idea for a story, with genuinely surprising moments all along the way (I'll refrain from spoiling too many). I honestly couldn't predict where it was going, and the sense of the unexpected was refreshing. I also liked the jazzy soundtrack, into which the titular phone's chirpy ring fit nicely.
However, the tone of the play felt uneven at times—from over-the-top silly and absurd, to attempting to impart a bigger message. The characters are colorful but largely cartoonish. Jean is presented as sweet and so warm-hearted as to be nearly angelic, but she's so childlike and willing to weave a web of Gordon-related lies that she verges on being creepy (which, granted, makes her more interesting).
On the whole, it just doesn't live up to the promising premise.
Although I left the theater not sure that I "got" it, I'm glad the Los Altos Stage Company was adventurous enough to choose the appealingly oddball Dead Man's Cell Phone to start their 20th anniversary season.
Dead Man's Cell Phone
Thru Sep 27, $18-$28