Arts
Deadbeat Club: Field Trip
Opens at Seeing Things Gallery
Six Deadbeat Club photographers share intimate portraits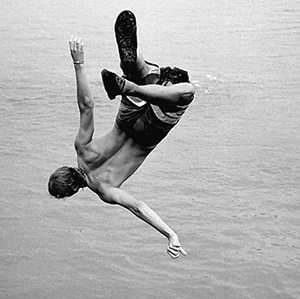 Weathered billboard proclaiming the Fountain of Youth Spa stands alone in a stark desert landscape. Seen from the outside, a couple dines, framed by the bright-red outlines of a Chinese restaurant's windows. A woman in a bikini smiles and makes "sand angels" on the beach. The translucent iridescence of a massive bubble shines as it's stretched on a wand by a person garbed in gold-lame pants. A girl nearly hiding in her mass of dark locks and wearing a Cannibal Corpse T-shirt stares back, not exactly challenging, perhaps more quizzical.
A half-dozen Deadbeat Club Press photographers captured these images—and documented many other moments of everyday life that are now showing at Seeing Things Gallery in the exhibition "Deadbeat Club: Field Trip."
"I've always made zines," says Clint Woodside, founder and publisher of the zine, Deadbeat Club, which has brought a collection of some of its best photographs to Seeing Things. The featured artists in the show, including legendary skateboarder Ed Templeton, Deanna Templeton, Clint Woodside, Devin Briggs, Nolan Hall, and Grant Hatfield, are core members of the Deadbeat Club Press, a small, LA-based publishing house that specializes in small-run and limited-edition photography.
The show offers a diverse collection of photos that focus mainly on Southern California beach life. And each photographer brings his or her own singular examinations of the absurd, strange, and sublime figures who make their home in that sunny, beachy environment. The crowd on opening night was equally diverse: twenty-somethings, hipsters, adolescent skaters, and older punks—local counterparts of the figures in the photos on display.
Deadbeat Club got its start when Ed Templeton shattered his leg. As therapy, Woodside proposed the idea of a zine. In the years since, the Deadbeat Club has become one of SoCal's most successful such publications, gaining legions of supporters and contributors. The new exhibition at Seeing Things is thus a celebration of how far the Deadbeat Club Press has come, and of the next phase in its story.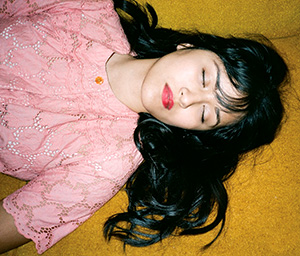 Woodside himself has photos in the collection, and they are a lovely contrast to the rest of the show. Lonely and spare, his photographs capture the uniquely American and seductive loneliness of abandoned cars—each of them still seemingly inhabited by the physical memory of the human lives that once lived in them.
Easily the most well-known of the group in both the art and skateboarding worlds, Templeton is also showing the biggest collection of photos. "It helps to occupy some of my time," he says in his characteristic low-key way. Templeton's work exhibits a fantastic range of subjects: from pro skateboarders to nude couples.
Some of the most interesting of Templeton's works exist at the intersection of photography and other forms of visual art. These are mixed media, many with text scrawled on the photos. Other works incorporate Templeton's drawing and painting. His portrait photographs are particularly compelling. Templeton shoots mostly from a downward angle; it has an equalizing effect.
Grant Hatfield's photographs are marked by a sense of comfort and safety: portraits of people sleeping, resting, lounging in tired if not comfortable positions, even, oddly, leaping over a barbed wire fence. His photos also express a wonderful intimacy. A motel maid on the phone or of a defeated looking skater resting on his board seem to be sharing with us a private moment in their lives.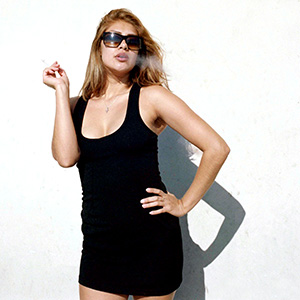 Deanna Templeton, (wife of Ed and his resident muse), captures arresting portraits. The photos have an impartiality about them, demanding everything from the viewer—appearing simple on the surface, but with a deeper complexity. Her portraits capture both the subjects and the world behind them in equal measure by making each photo as much about the surroundings as the subject. Templeton's photos lure you into fascinating worlds.
"All my photos are spontaneous," says Devin Briggs, whose photographs in the show are a compelling juxtaposition between breezy beach life and lost souls who cling to the same coast. Armed with a Contax G2 and a penchant for old fashioned film, Briggs captures a sun-baked alienation in his scenes.
Nolan Hall offers the most serene photographs of the collection. His work captures the deep, almost ineffable, relationship between man and ocean in images of people diving, rocks, beaches, waves and negotiating the obstacles of the beach. His photos capture the fragility of a person in the face of untamed and raw nature while simultaneously assaying the wonder that arises from that same relationship.
Deadbeat Club: Field Trip
Thru May 17