Arts
Silicon Valley Honors Its Ancestors
at Multiple Día de Los Muertos Celebrations
The traditional Mexican holiday of Día de los Muertos is tied to honoring loved ones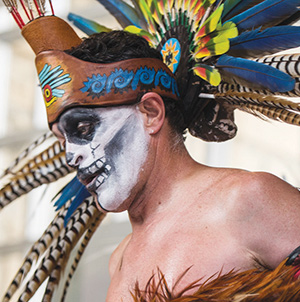 Much like the religious traditions that predate Halloween, the traditional Mexican holiday of Día de los Muertos—Spanish for "Day of the Dead"—is tied to honoring family, friends and loved ones who have passed on.
Also, like Halloween—which scholars believe to be the result of pagan European harvest festivals being taken into the fold of the Christian church—Día de los Muertos blends Spanish and Catholic tradition with a centuries-old indigenous celebration honoring the Aztec goddess of the afterlife.
In San Jose, it means art exhibits, family activities, food, music, dance and processions in solidarity with lost loved ones. It also means leaving food and other gifts at the graves of the deceased. Ornate face-painting—of both human subjects and sugar skulls—draws attention to the temporal nature of our existence, while also finding beauty in the hereafter.
Morbid, maybe, but the Day of the Dead isn't meant to bum anyone out. The crowds, skeletons and elaborate decor make the celebratory, rather than somber, affair.
It is a jubilant tribute to those who have come before us, as well as an acknowledgment that while we all must one day shuffle off this mortal coil, at least we lived, loved and knew love in return.
18th ANNUAL DÍA DE LOS MUERTOS
Dr. Martin Luther King, Jr. Library, San Jose, Thru Nov 6
An exhibit of traditional and contemporary altars by local artists including: Rick Moreno Jr., Curator, Raquel Burciaga, Carlos Villez and more.
6th ANNUAL DÍA DE LOS MUERTOS
Calvary Cemetery, San Jose, Oct 31
One of San Jose's premier Day of the Dead events, Día de Los Muertos at Calvary Cemetery is a cultural and spiritual celebration that honors deceased ancestors.
LA ULTIMA PARADA 2015
Mexican Heritage Plaza Theater, San Jose, Nov 1
After a brief hiatus, the parade returns. More than 200 dancers, decked out in traditional tribal garb, will dance to Mexican folk music provided by San Jose folklorico companies, including Los Laureles de San Jose and Grupo Folk Yoloti Guerrenese, at this long-running Día de los Muertos celebration.
ALL SAINT'S DAY & DAY OF THE DEAD
Oak Hill Funeral Home & Memorial Park, San Jose, Nov 7
After a memorial service to honor the dearly departed, sweet bread, coffee and champurrado will be served, live music will be played and a ceremonial dance will be performed in celebration of All Saint's Day and el Día de los Muertos.
DÍA DE LOS MUERTOS: OAKLAND
Fruitvale Village, Oakland, Nov 8
Featuring arts and crafts made by local community members, food, dancing and live music, the 20th annual Día De Los Muertos Festival is one of the most vibrant in the Bay Area.