Arts
'Divided' they Stand
at the Trianon Theatre
Ty Barnett and Ian Harris take on divisive topics in comedy special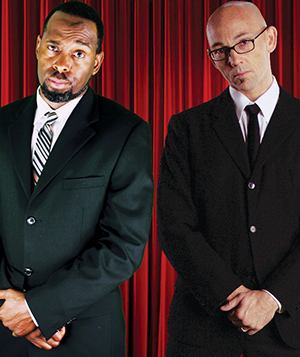 We all know that guy (and yeah, it's usually a guy), who has a surplus of opinions on controversial topics and a God-given right as an American to share these with you in a high volume monologue.
Turns out, people actually want to listen to that guy. He just needs a stage, a microphone, oh, and some legitimate comic talent. That last part's usually the stickler.
Ty Barnett and Ian Harris have around three decades of comedic experience between them, and with their show Divided they're aiming at the controversial—albeit from different, and unusual, vantages.
It's a black comic and a white comic double headlining a show about controversy, so they're gonna talk about race, right? Right, but you're not gonna find the old Def Jam schtick.
"I don't do jokes like, 'Black people be like this and white people be like this,'" Barnett says. "My perspective on race and religion comes from Ty Barnett's perspective."
This perspective is often rooted in the personal and the absurd. For example, when he gets into race in his recent stand-up special, it's from the angle of neck-beards and wizards. Who knew?
Harris, who grew up in Santa Cruz, calls his current style "comedy skepticism," something he's been working on since his return to stand-up three years ago. "If there's a belief out there that isn't based in science, I make fun of that," he says. Religion is an obvious target, but Harris mocks things like racism, astrology, and Bigfoot as well—exposing their contradictions analytically.
Given their distinct styles and audiences (you can watch Harris absolutely kill the American Humanist Association Conference online, for one), the comedians are aware they'll be drawing a motley crowd, one that might not always know what exactly they'll be getting.
"The theme of this show is that it's gonna be touching on all kinds of perspectives," Harris says. "Not all comedy is thought provoking. You don't always walk away with anything new. With us, the goal is that you walk away with two distinct perspectives that make you think."
"Uniting audiences through laughter," Barnett calls it, an odd tagline for a show called Divided. But comedy is one space where people hear foreign, contrary and discomforting perspectives on some of the most difficult topics, and keep coming back for more, laughing all the way.
I asked Harris and Barnett why comedy is so suited to these difficult subjects, why people will listen to a stranger on stage, but not some random dude at the other end of the bar.
"Part of it comes from emotion," Barnett says. "Carlin and those guys talked about social issues, and then they'll make a funny face, which softens it up. Then people will say 'Lemme listen to you for a second.'"
He compares himself to a salesman: the jokes get his foot in the door, get people to let down their usual defenses. "People wanna hear these things, they just don't wanna be beat over the head with them."
Harris explains things in a similar way. "We're coming under the guise of, 'Hey this is entertainment,' and then we're making statements, making points," he says. "There are people that do comedy that don't make statements. There are people that do comedy that aren't funny." In Harris' opinion, a great comedian is someone who "makes us look at stuff and say, 'Oh I never actually thought about it that way.'"
When asked where they'd like to go next in their careers, both men put stand-up as first priority. Barnett's dabbled in acting in the last few years, starring in the sitcoms 'Til Death and Samantha Who? "I wanna hone [my acting] more, but stand-up is my first love," he says.
Harris only recently returned to the stage, having taken six years off to focus on his voice-over career and training a stable of MMA fighters. He's got a couple shows in development now, though those will ideally funnel audience to his stand-up.
"With stand-up, you get to write, direct and perform. You're in total control. If it fails, that's on you. If it's successful, that's on you," Harris says.
Barnett adds: "I had a lady tell me one time, man, that my comedy helped her get through brain surgery. She told me, 'Watching you as I was recovering helped me relax.' That came from my thoughts. I can't give that up. I've earned this."
Divided
Jan. 15, 7pm
$20-$35