Arts
Eduardo Carrillo Mystical Remix
'Testament of the Spirit: Paintings by Eduardo Carrillo' is now showing at Triton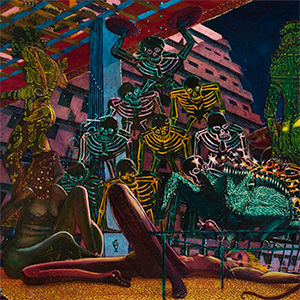 References to Diego Velásquez's spirited mustaches; Giorgio de Chirico's dreamy, unoccupied plazas; the color schemes that El Greco mutilated and then blended back together to make into the night sky. You'll find all of these references, and more, in "Testament of the Spirit: Paintings by Eduardo Carrillo," now showing at the Triton Museum of Art.
There are surfers, bricklayers and other ordinary models, holding classical poses found in Greco-Roman statuary. Biblical stories are recast with brown-skinned men and women, while figures from Mexican folklore hold their own equally potent mythical space next to them.
This splendid exhibit makes the case that Carrillo (1937-97) absorbed all of these influences but then went on to shape his own moral universe from similar materials—namely, oils on panels or watercolors on paper. First and foremost, he accomplishes his vision with color. In Self-Portrait with Green Frame (1960), red isn't red; it's molten ash. His own flesh roils across the canvas, flickering in waves. His bare chest ranges in expressionistic tones from carnation to puce to pewter to daubs of sea green. Compare it with an earlier self-portrait from 1958 and the palette is more vibrant, his gaze more direct. By the late 1960s, his surrealistic triptych—Subterranean Garden, Cabin in the Sky, Pearly Gates—displays that mastery of expanding color, complemented by form and narrative.
Subterranean Garden bears the same precision as René Magritte's "Empire of Light" series. You enter Carrillo's formal landscape in the same way that you enter Magritte's. Your line of sight focuses on objects at or near the center of the frame. Both artists create a trompe l'oeil effect, as if you could walk straight into their paintings. They suggest you could if you were dreaming of them. Magritte paints an isolated house at the end of a lane. It's just past dusk, but a light post is shining. Trees darken the block. Only by knocking on the eerily lit front door will you find out if anyone lives there.
Carrillo paints not one but six graduated tiers in a solemn limbo. The bleak, pastoral imagery suggests that heaven and hell might share some of the same real estate, or are at least next-door neighbors. At the bottom, central edge of the frame, there's a break in the garden wall shaped like an unseen gate that repeats itself on the opposing side. A path then continues onto three vistas in varying shades of green. Each one leads the eye onward to a tunnel and then a corral or stadium. The land turns to rust and finally into an ochre hill that slopes down into a bay. Like Empire of Light, the world Carrillo proposes feels coldly fixed, pre-ordained, made by an absent but civilized god who invites you in to snoop around at your own peril.
Civilization literally eats itself in the extraordinary mural Chicano History. It's a visceral confirmation of America's violent colonialist past. Rivers turn red with the blood of indigenous peoples. Uncle Sam doubles as the Grim Reaper, leading a troop of soldiers to their doom. A towering religious figure skewers the world on his sword. His cardinal hat sits atop a skeleton's mad grin. Carrillo, along with Sergio Hernandez, Ramses Noriega and Saul Solache, painted the mural at UCLA in 1970. The work was meant to be taken down only temporarily in 1991 but was never re-installed. It's related to the nightmares of Hieronymus Bosch but fueled by rage, and a determination to tell history from the point of view of the oppressed.
In Pedro Pablo Celedón's documentary, Eduardo Carrillo: A Life of Engagement, we learn that Carrillo, who taught at UC Santa Cruz, painted a mural there—downtown in the Palomar Arcade. But Birth, Death and Regeneration was painted over in 1979. The film suggests that the community wasn't then ready for Carrillo's mix of art, mythology and politics. However, a hopeful note on the Museo Eduardo Carrillo website states that, "Plans are underway to re-create the mural."
"Testament of the Spirit" feels like an overdue homage. Carrillo imbues still lifes (the odd table and chair) with as much energy as his multicultural reclamation of the Western canon. In paintings like Leda and the Swan or Couple in the Garden, the myths he works with are universal. It's only the color of the skin tones that are no longer pale and white.
Testament of the Spirit: Paintings by Eduardo Carrillo
Thru Jan 27
Triton Museum of Art, Santa Clara
tritonmuseum.org