Arts
EmazingLights Opens in Milpitas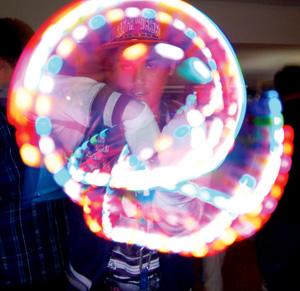 Cashing in on the nearly $5 billion dance-music industry, Southern California-based EmazingLights is expanding with a new Milpitas store catering to the EDM fans who fill some of the Bay Area's largest venues. Simulating an EDM event, the store (which celebrated its grand opening last Friday) features blacked-out windows, a DJ station and a 2,000-square-foot hardwood dance floor. Its walls are decked with fur boots, brightly covered tutus, gloves and original T-shirts reading "Legalize Gloving."
But the shop is more than just a candy store for candy ravers. Despite what shop owners call a "growing gloving culture"—dancing with gloves with LED lights at the tips to create a personalized light show—event producers have banned the rave toys from events due to a stigma attached to drug use at events. EmazingLights founder and CEO Brian Lim hopes to change that perception. Insomniac, the largest producer of dance-music events in the United States, banned the gloves in 2010 after a 15-year-old girl died at the Electric Daisy Carnival festival, an event that draws more than 300,000 to Las Vegas each year. Lim—who sells the gloves for $20 to $80 at the store and online—says the art of gloving isn't taken seriously by the promotions company. "It's not just wiggling their fingers around," Lim says. "There are so many moves and combinations people can do. It's really harmless fun, and I think Insomniac isn't seeing the artistic side of it."
Lim now uses his three stores in Southern California and the Milpitas location as places for the gloving community to come, practice and share a common interest. It's a community Lim had a hand in shaping by organizing weekly, monthly and annual competitions where thousands of glovers attend and compete. Lim also advises gloving groups on a collegiate level with fraternity-like chapters. UC-Berkeley was among the first chapters and currently offers a gloving class.
Before opening EmazingLights, the 25-year old Lim used to hold gloving sessions from the trunk of his car using homemade LED gloves. Frustrated with the LED vendors at the time, he decided to take matters into his own hands. Two and a half years later, he's an industry leader, making and manufacturing gloves. Lim admits to riding the coattails of the EDM popularity surge. "Now it's on the radio, and Skrillex started winning Grammys," he says. "It's been great as a movement."
Lim and the EmazingLights crew remain confident that the light-show culture can stand on its own with or without acceptance of larger EDM events. "You can see by our community that light shows and gloving are legitimate art forms," Lim says. "Kids are here practicing every single day and, at the end of the day, it's all from our love of EDM."
EmazingLights
100 Dixon Road, Milpitas
408.262.1600