Arts
Emilio Cortez Creates
Paintings on Vinyl Records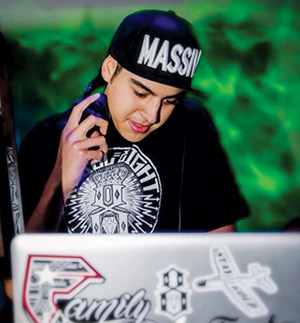 AS A DJ and painter, Emilio Cortez, aka DJ Too Tall, is living proof that you don't need to be team captain in order to be the big man on campus. "People are always asking me, 'you're 6'10" and you don't play basketball?' I used to play sports when I was younger, but I've always been more into the arts than athletics," he says.
When he isn't DJing, Cortez creates custom paintings on old vinyl records for artists like Tiesto, DJ Jazzy Jeff, Ryan Leslie and Snoop Dogg, and his work was recently chosen to show at Gallery 85's exhibit, "Rethinkit," opening May 22 as part of the Vernon Davis Foundation for the Arts.
Metro: When did you start painting?
Cortez: I started painting around the age of 10, but before that I was always drawing. I started playing around with graffiti on canvas, and I used to paint on skateboard decks with sharpie markers in high school. After that it progressed into getting down the techniques with the paints, so what I mostly do now is painting.
About five years ago, back in 2008 when I first started DJing at San Jose State, I had a box full of random vinyls. I thought to myself, "well I'm not gonna play these, I might as well paint on them.' From there, I started out with a couple and then people started noticing. It kind of progressed and it's really been taking off recently.
How does your music and your art influence each other?
I've always enjoyed DJing; it's like an art form in itself. It's fun to see everyone dancing, and to blend all the songs together. No matter what, I'm always giving it my all when I play. I try to keep them dancing all night no matter how many people are there.
Every gig I have is like a new blank canvas, and my music is like a paint palette. I choose one song that I'm going to start with, then I'm constantly looking to see which song is gonna flow next and sound the best and work together to keep the vibe and keep the ambiance moving with the crowd. It all works together to make one big masterpiece; it's basically painting through music. Music has always inspired my art.
You're graduating in a couple weeks. Any plans for the summer?
I'll definitely be working on a new series throughout the summer now that I'll have more free time after I graduate. I have a whole famous Latinos and Latinas series I've been working on. I feel like a lot of times there isn't much representation of Latinos and Latinas in artwork. There's so many famous artists that are out there. There's so much to be proud of that doesn't ever get seen. Being Latino, I feel like this is one way that I can represent them and represent my culture, to show that I'm proud of all the accomplishments Latinos and Latinas have made.
For more info, visit Instagram.com/DJTooTall or mixcrate.com/DJTooTall