Arts
The Emily Fisher Landau Collection
Emily Fisher Landau's Legacy collection at San Jose Museum of Art
documents a dramatic shift in art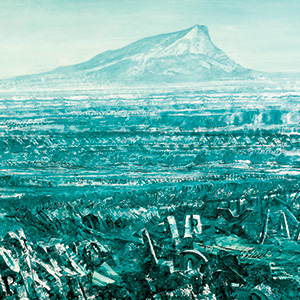 One of the least-celebrated but most valuable art programs in the South Bay is the two-decade-long partnership between the San Jose Museum of Art and the Whitney Museum in New York City. SJMA's newest exhibition, "Legacy: The Emily Fisher Landau Collection," offers a reminder of this "sharing" agreement's value.
The nearly 70 pieces on display (part of Landau's 400-piece collection) document the radical break from traditional forms and ideas of what constituted art in the post-war period, and it includes works by some of the giants of 20th century art.\
A longtime staple of the New York art scene and a trustee of the Whitney Museum, Emily Landau has always been a strong advocate for contemporary art, particularly art that has not yet been "canonized." In the modern world of exorbitant art prices and collectors who bid millions on speculations and brand names, Landau's collection is unusual for the personal relationships she maintained with each artist, visiting their studios, following their work and collecting it.
This pieces from her collection are shown in three galleries, each documenting a different art movement.
The first gallery shows both abstract-expressionist and contemporary paintings featuring prominent artists of both movements.
Cy Twombly's large calligraphic, almost scribbled, painting is reminiscent of a vandalized school desk. Al Taylor's sculptor is a testament to the resourcefulness of artists: he used broomsticks to make a large, tendril sculpture. The Willem De Kooning piece is the most compelling of the collection. The Dutch abstract-expressionist and draughtsman's masterful line-work is evident even in fluffy abstraction, giving the piece the same visual effect from any distance.
Painter Jasper Johns, a good friend of Landau's, holds pride of place in the gallery. Numerous Johns pieces are featured, the most of any artist shown in "Legacy."
The second gallery centers around a characteristically huge and explosive painting by James Rosenquist. Standing as almost an ideological opposite to the neighboring pieces, Rosenquist's work employs pop-art imagery not ironically, or in commentary about pop culture—but in celebration, as graphic elements (hotly colored lipstick tubes juxtaposed with ICBMs) and as talismans of progress, both good and evil, sincere and absurd.
Next is Andy Warhol, easily the most famous artist in the collection. Warhol's images are so ubiquitous in our culture that there isn't much left to say. They are what they are: deconstructions of art that glorify commercialism. One the other hand, The Act of Letting A Person Into Your Home by Ed Ruscha, a bright orange and red background with its message—the piece's title—spelled out in bold white letters, seems to sum up the intent of the entire show. It encapsulates the intimate connections between the eyes of the artist and those of the art patron.
A number of other paintings in the second gallery exemplify the debate that took place in the '80s of whether or not painting was "dead." The dissenters to this notion, artists like Neil Kenne and San Jose native Mark Tansey, took to the canvas and responded with expansive, meticulous and beautiful pieces. Tansey's large-scale piece in the "Legacy" show is a battle scene marked by both exhaustive detail and incredibly organized composition.
The third gallery incorporates numerous art movements but focuses on the politics and social causes behind the art. With four of the artists shown in this gallery having died of AIDS, the works here have an air of poignance. Using a large canvas and his trademark bright, colorful style, influential graffiti/pop artist Keith Haring's piece sends a haunting warning about the spread of HIV/AIDS.
Stark but sharply colored William Gaggleston photographs depict life below the Mason-Dixon line. A furniture maker by trade, artist/sculptor Richard Artsmeryer brings his mastery of woodworking into both his coffin-like wooden cross sculpture and his mixed media painting.
Robert Mapplethorpe's one photograph shown in "Legacy" is crisp, erotic, yet oddly moving. The cross section of a man's torso with the top right frame missing evokes a strange feeling of physical loss, ultimately the theme of this third gallery.
Landau's relationship with each artist featured in the show marks a refreshing change from many famous, but impersonal art collections and brings a greater intimacy to the viewing experience. Rarely has the history of modern and contemporary art been brought together with such a personal sensibility in one space.
Legacy: The Emily Fisher Landau Collection
June 5 thru September 14
$5-$8