Arts
'Quest For Pure Land' at
Empire Seven Studios
In the new Empire Seven exhibit, 'Quest For Pure Land,' graffiti artists
Chip7 and Bigfoot contemplate the wider world.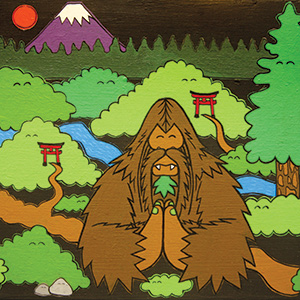 Empire Seven's newest show, "Quest For Pure Land," continues the gallery's current trend of environmentally conscious openings, this time with help from veteran graffiti writer and artist Chip7, and skate and street art legend, Bigfoot.
The individual styles of these artists—both of whom prefer to remain anonymous, as they continue to paint illegally—mesh well, perhaps because they both came up together in the New Jersey graffiti scene. They shared mutual friends and would hang out with one another on occasion, according to Bigfoot.
Chip7's graffiti roots are more than evident in his neon-palette and organic cyborg aesthetic. His pieces—mostly re-imaginings of pop culture figures—are a mixture of fine, colorful detailing and purposefully sloppy supplementation. Using paint, pen, screen printing and pieces of adhered paper, Chip7's collage-like work has both the endless complexity of futurism and the warmth of Southeast Asian native art.
Bigfoot has more than 30 pieces on display in the show. He explores everything from expressionist portraits to scenes of geopolitical unrest, environmental destruction and homages to old cartoons, such as Yogi Bear. All of his work features the same Sasquatch-like character—an icon in the world of street art and skateboard design.
The majority of Bigfoot's pieces are woodcuts, many of which are in irregular shapes, including one multi-layered painted sculpture. This use of wood is in part a reaction to the demands of framing. "I hate framers," Bigfoot laughs.
One of the most compelling pieces in the show is a scene in which Bigfoot faces off against Mickey Mouse. It brilliantly juxtaposes the iconic Disney character's black-and-white with Bigfoot's signature green.
While most of Bigfoot's work in "Quest for Pure Land" is politically themed, it's also remarkably playful—even when the subject is deforestation and capitalism.
After more than a decade of changes, Bigfoot seems more engaged and confident with his trademark character than ever before. And it certainly is popular. These days, Bigfoot appears on skateboards, T-shirts—even as a toy.
Overall, "Quest for Pure Land" is a colorful, certainly ironic look at the destruction of nature. While heavy political themes can wear on the aesthetic enjoyment of art, both Bigfoot and Chip7 keep it fun and bring a vibrancy, boldness and sly humor to a serious issue.
Quest for Pure Land
Thru Aug 25, Free