Arts
The Citadel, Home to Many SJ
Artists, Unites with Group Show
Once a cannery, the complex of studios is organizing in effort
to make deeper connections with community.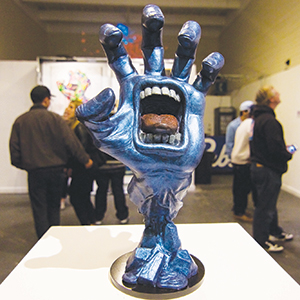 Over the last eight years, Jennifer Ahn and Juan Carlos Araujo have witnessed the full spectrum of the art world's absurdity. The co-founders of Empire Seven Studios have accomplished a great deal—and overcome some trying obstacles—since first opening their gallery near the corner of Empire and N. 7th streets in the Japantown neighborhood of San Jose.
In remembrance of this near-decade-long adventure in the art world, from humble beginnings to hosting high-profile, touring exhibitions—and even a near-catastrophic fire—Empire Seven's new show, Shokunin: Celebrating 8 Years in Japantown will be a retrospective group show.
The title is a nod to the Japanese idea of a shokunin: the humble, dedicated, undeviating artisan. It also reflects the subtle but consistent Japanese influence on the gallery. "I wanted to really do something that celebrates our history in Japantown," Araujo says, before giving his own, personal definition of a shokunin: "It breaks down to someone who is in love and passionate about what they do so much that it doesn't matter if they make money."
Shokunin will be both a new exhibition and a visual history of the gallery. The majority of the art on display will be pieces previously shown at Empire, but some of the newer work will focus on Japantown. "I want to highlight the fact that we are in Japantown with those unique elements and energy," Araujo says.
Even as ES7 continues to expand its artistic and curative scope, the anniversary show will also be a reflection of the community that incubated it. "We went along the whole list of exhibits we've done, solo shows, group shows and we're trying to bring as many as people as we can," says Araujo. This includes the first artist Empire ever exhibited, Ben Alexy, as well as more than 80 others who have participated in various ES7 exhibits, and mural projects—including Girafa, Mitsy Avila Ovalles and Sean Boyles, to name just a few.
Shokunin: Celebrating 8 Years in Japantown is an exploration and affirmation of creative principles and the consistency and diligence required to live a creative life. This ethos struck a special chord with the gallery from the start, and has given momentum to their last eight years.
"We are in this for the long run," Araujo says. "We love what we do. No matter how hard the battle might be...no sweat, you know?"
Shokunin: Celebrating 8 Years in Japantown
Jun 10, 7-10pm, Free
Empire Seven Studios, San Jose