Arts
Empire Seven Studios Anniversary
In just six years, Empire Seven Studios has made a name with its gallery & mural projects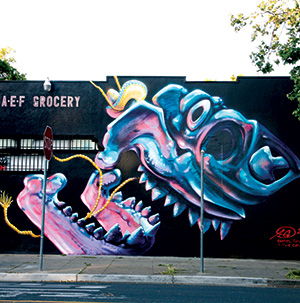 Empire Seven Studios has been celebrating its six-year anniversary this month, and owner Juan Carlos Araujo is a contented man. After years spent establishing the reputation of the gallery and its underground approach to art, along with a highly successful mural project, Empire Seven Studios has firmly planted itself in the San Jose arts community.
"It's like showing a painting that isn't done," Araujo says in reference to the constant flux of establishing a gallery. "I now feel comfortable asking anyone to show here."
The response to those invitations has been impressive. With more than 40 artists and photographers lending pieces, the sixth-anniversary show is a fascinating microcosm of the art world. From the famous, even legendary, artists like Bigfoot and Jeremy Fish, to local institutions like skateboarder-turned-artist Jason Adams, the collection depicts the eclecticism that is the heart of Empire Seven's philosophy.
"We never thought the place would look this way—ever," Araujo says as he walks around the gallery's extensive space. What started as an old refrigeration unit in a heavily industrial area, with large pipes and coils and an intact cooling system, is now a well-established gallery in the heart of Japantown.
Crucial to the success of Empire Seven Studios is Jennifer Ahn, Araujo's longtime partner and girlfriend. Though she initially considered the gallery little more than a pipe dream, Ahn quickly rose to the occasion—to the point at which "she has become the backbone" of the studio, says Araujo. Whereas he takes care of much of the physical labor needed to keep up the gallery and establishing connections to artists, Ahn is there to handle marketing and promotion, introducing Empire Seven Studios to the world, a concept that Araujo initially dismissed.
"I was very stubborn. I was like, 'this is Empire Seven studios, it's not an art gallery.' But I've grown, I've learned, and this is very much an art gallery." Empire Seven Studios is firmly rooted in the world of graffiti and is deeply influenced by the underlying ethos of that often illegal art form. As a former graffiti artist himself, Araujo knows that graffiti is not the best topic to bring up in polite company. "In fact," he says, "it's the worst subject to bring up."
But the tags and throws that litter the streets of America's cities are exactly what compels Araujo and, in turn, Empire Seven Studios. After a lengthy career as a San Jose graffiti street artist, the heat wouldn't keep off, and Araujo eventually found himself arrested for illegal painting. "They throw felonies at you, they throw jail time at you, and nobody wants to go to jail for anything, much less painting some graff."
It would have been easy for Araujo just to skip town and start fresh, but part of the drive that made him a San Jose graffiti king also compelled him to stay in his hometown and find new ways to express himself. "I just took all that energy that's exploding inside, the addiction to the craft, and made something with it."
The San Jose Mural Project, one of the more recent Empire Seven Studios undertakings, has quickly grown into its most visible achievement. As a former graffiti writer in a town full of big blank walls, Araujo saw the potential for a vibrant street art, not just personal gains. "I live in Japantown," he said, "and knowing graffiti—for instance our mural project—not about promoting my next show. It's me wanting to manage graffiti—not just doing it myself, but enable other artists to do it as well. It's looking at a wall, seeing it for what it is, and then putting the right person on the task.
"It's not just about some guy doing random things with spray paint—but really seeing that wall, determining what belongs there, and then selecting the right artist for the job. I love graffiti—and even though I'm a gallery owner these days, in my heart I'm still a graffiti writer."