Arts
'The Farnsworth Invention'
at the Lucie Stern Theater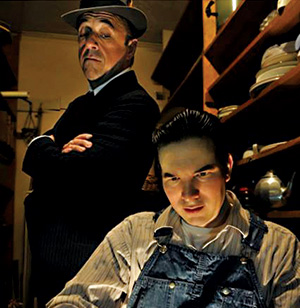 If the new availability of Tesla's patents offers any indication, the race to lock down tech patents isn't quite as fevered these days. At least, the climate doesn't seem as overtly cutthroat as the face-off nearly a century ago between independent inventor Philo T. Farnsworth and media conglomerate RCA. Farnsworth and RCA, with founder David Sarnoff at its head, competed to claim the patent for developing the television. Palo Alto Players share this complex tale in their production of Aaron Sorkin's drama The Farnsworth Invention.
As the creator of The West Wing and The Newsroom, Sorkin is himself a direct beneficiary of this early innovation race and that's reflected in a play which is part biography (of both Farnsworth and Sarnoff) and part corporate whodunit, but largely a tribute to what each man's vision would eventually contribute to modern media.
Farnsworth (Dominic Falletti) and Sarnoff (Michael Sally) trade off narrating the complicated story, sharing personal tales mixed in with the story of the invention of television.
The initial picture of Farnsworth is a somewhat romantic image of the misunderstood genius; exuberant, single-minded, devoted to his project. Falletti convincingly portrays the spectrum, gradually shifting all that energy into frustration and disappointment—all complicated by Farnsworth's apparent alcoholism.
Sally plays Sarnoff as strong, sarcastic and ruthless, but at the same time, captures a surprising vulnerability: Sarnoff, in some ways, appears to be a secret idealist. That's particularly evident in his doomed belief that radio programming should be strictly informative, with no advertising of any kind. Even so, his eyes aren't closed. Sarnoff foresees radio's short life expectancy as the dominant medium.
The development process for both Farnsworth and the RCA team unfolds in a series of meetings—perhaps that's too true to life?—many of which devolve into shouting matches.
As Farnsworth struggles to convince his backers of the strength of his design, Sarnoff searches for a way to either prod his own development department or else appropriate Farnsworth's work. After Farnsworth's television nears completion, Sarnoff does find a way to land the battle in court, in a dispute over who can really claim the patent for inventing TV.
The Farnsworth Invention has encountered controversy—objections that Sorkin's play suggests RCA invented television—and although Sorkin does take artistic license with the patent court case, he leaves no question that Farnsworth made the key breakthroughs in inventing television.
If it's not quite a Silicon Valley story, geographically speaking—Farnsworth's lab was located in San Francisco, as were his backers—it's a valley story in spirit. Technological breakthroughs happen so much faster than they did 100 years ago, but the messy, circuitous path to a new innovation, perhaps the most human element of the process, remains the same.
The Farnsworth Invention
Thru June 29
$23-$45