Arts
'Ex Post Facto' at
Empire Seven Studios
Before he got shows in galleries, Francisco Graciano
put on his own exhibits, in the streets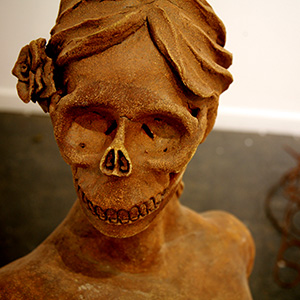 At the age of 7 Francisco Graciano already knew he wanted to be an artist. The East Side San Jose native figured that out when he handed his second-grade classmate a drawing he'd done—a cartoon character he'd created after carefully studying his uncle's "stash" of comics.
"Seeing his reaction is what convinced me," Graciano says.
By many measures Graciano has achieved his goal. He is able to support himself mostly through his art these days and he has a solo retrospective show, "Ex Post Facto," opening this weekend at Empire Seven Studios in San Jose's Japantown. But getting to this point took gumption, hard work and some luck.
In the years following that fateful day in second grade, people in his life attempted to persuade Graciano to pursue something more practical. Art school is expensive and even for those who can afford steep tuitions, making it as an artist is hard—especially in the South Bay.
Many galleries turned down Graciano in his early years, but that didn't phase the budding artist. When one gallery passed on his work, he decided to put on his own "guerrilla style" show—right outside the very same gallery.
At the time, Graciano was making wire sculptures out of discarded copper clothes hangers. He placed the "human insects," as he calls them, around the gallery. And soon, he was installing his little sculptures everywhere, arranging them so that they interacted with the environment. One hung from a telephone wire, while another wrapped around a public telephone handset, as if it were placing a call.
These wire sculptures ultimately convinced officials at the San Francisco Art Institute to give him a scholarship to the prestigious school—a gift Graciano hadn't asked for and did not see coming.
"I just wanted to check out the campus," the artist says, recalling the day he visited the Art Institute and asked for a tour. After having a look around, he ended up showing his portfolio, which included the "human insects."
That was a Thursday. On Saturday Graciano got a call from admissions informing him that they were awarding him a full scholarship. He started school that Monday.
Much of Graciano's work contemplates boundaries created by government and private property owners and the ubiquity of advertising in our society, he says. His wire figures were meant to simultaneously draw attention to these boundaries, as well as serve as metaphors for the constant "bombardment" we face every day. "On a daily basis we are advertised to—even if we don't want to be or don't know it," he says.
The exhibit will feature Graciano's painting, sculpture as well as a sound design piece, which he aims to perform during the show's opening reception, Aug. 8, from 7 to 11pm. Graciano is a longtime musician and used to serve as a percussionist in the Whiskey Avengers.
After working for so many years at his art, Graciano says it's incredibly validating to be holding a solo show. "It's a great feeling," he says.
'Ex Post Facto'
Aug 8-Sep 12, Wed & Fri: 12-6pm, Sat: 12-4pm