Arts
Review: 'Frankenstein'
City Lights delivers moving, cautionary tale with new play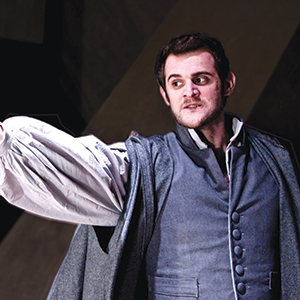 In City Lights Theater's newest production, Frankenstein, an original dramatic adaptation of Mary Shelley's classic, the nature of mankind and its arrogance is investigated to a horrifying degree.
The story, of course, is familiar—even to those who only know the very different plot of the famous movie interpretation. But this production, written and directed by Kit Wilder, is intriguingly different in its overall approach and is far more cerebral.
As the show opens, the characters emerge on a stage dotted by large, stalagmite-like columns. They begin by reciting quotes from famous philosophers, giving this relatively ethereal play both context and exposition. Cut to Victor Frankenstein, who is hard at work in his lab, ignoring the discouragement of his friends and elders in an attempt to meddle with the forces of nature and reanimate a human being. Soon Victor gets his wish, but it's more than he bargained for, as his fate and the fate of his creation are wrapped around each other in an increasingly destructive dance.
From the bit players to the main characters, the entire cast operates at a high level. Henry, played by Jeremy Ryan, is funny and endearing as Viktor Frankenstein's best friend and confidant. Victor's long-unrequited love, Elizabeth, is played by Roneet Rahamim with sincerity, naivety, and increasing exasperation. Even lesser characters like Ross Harkness as the old blind man who comforts The Creature, and Nicholas Papp as William in his first City Lights production, bring real humanity to a forlorn atmosphere.
But the standout performances of the show belong to Max Tachis as Victor Frankenstein and Nick Mandracchia as his creation, The Creature. Tachis plays Frankenstein with a temerity rivaled only by his increasing madness and horror at what he's manifested. Mandracchia, as The Creature, is both disarming and unsettling in his swings between love and suffering, understanding and punishment. Together they create a fantastic and ultimately destructive dialogue about the meaning of life and of atonement.
Compared to a conventional play, City Lights' Frankenstein is more a series of vignettes, the scenes appearing like quick flashes of light in the dark, jumping between past and present, dream and reality in a cinematic display. Everything from the fantastic lighting and overwhelming music to the movielike pace of the narrative are sewn together in a creepy, thought-provoking package.
Frankenstein
Thru Apr 23, $21+
City Lights Theater, San Jose