Arts
Good Dogs, Great Art
Seeing Things Gallery hosts 'Frida & Friends' art auction to benefit needy animals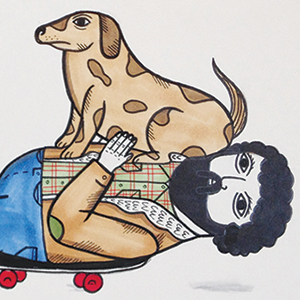 It's often the smallest acts of kindness that have the greatest impact. Take for example, the Frida & Friends Blanket Drive and Art Auction, hosted by Jai Tanju and his wife, Blanche Gonzalez, of Seeing Things Gallery. What started as a small—basically private—fundraiser for blanket donations to the San Jose Animal Care Center, has grown into a multifaceted art auction and benefit over the last nine years. This year's event will bring together artists and animal lovers from all over the world for a single purpose: to help animals in need.
Now in its ninth year, Frida and Friends has evolved into a blanket drive and silent art auction featuring animal-inspired work from a wide range of artists, including locals—like Sid Enck Jr., Francis Marin, Sean Boyles, and Jason Adams—as well as more widely known artists and photographers, such as Porous Walker or Michael Jang.
The art runs the gamut, from paintings and photographs to little sculptural pieces—including dog figurines made out yarn and surfboard resin or vinyl stitched portraits of dogs in suits. With more than 50 pieces on the auction block, there is something for everyone.
The benefit—originally called the Frida and Friends Fuzzy Blanket Drive—started when Gonzalez worked the front desk at Hillbrook School in Los Gatos. With winter approaching and a rescue dog of her own, she knew that the local shelters needed more support in keeping animals warm. So she solicited requests for blankets from the school's parents. It was such a success that it became an annual tradition, moving from Hillbrook to The Cinebar and eventually Seeing Things Gallery.
Named in honor of her 13 year-old shepherd—originally rescued from a garbage can in Las Vegas—Frida & Friends not only brings greater exposure to the gallery, but reflects upon Gonzalez's love of animals. "It broke my heart knowing that if I hadn't come in and adopted Frida, she would been stuck in freezing conditions," Gonzalez says. "It's just my way of giving back."
It's the biggest event of the year for Seeing Things, though Tanju says there's always room for growth. "You never know, we might have a massive thing someday, but it's pretty massive to us already, says Tanju. "Frida & Friends is the event that means the most to us."
Frida & Friends
Dec 2, 7pm, Free
Seeing Things Gallery, San Jose