Arts
Review: 'Frost/Nixon'
Excellent casting, set design ratchet up tension in TheatreWorks latest production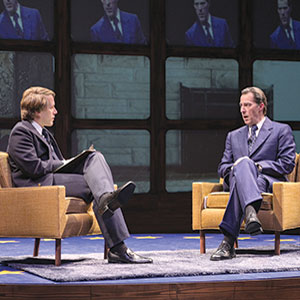 Theatreworks' latest production poses potent questions about the nature of truth in an age of perpetual spin.
Frost/Nixon spins a tightly wound drama from an ostensibly mundane thread—a series of 1977 interviews between the recently resigned President Richard Nixon and a British-Australian talk show host named David Frost.
Written by screenwriter and playwright Peter Morgan, the play premiered at the Donmar Warehouse theatre in London in August 2006. Combining snappy dialogue and a fast-paced plot, Frost/Nixon grabbed audiences by focusing on the battle of wits between a lightweight TV personality aiming to prove his mettle and a disgraced world leader seeking to redirect public opinion.
After a successful run in England, the play found continued success on Broadway and was adapted for the big screen by director Ron Howard in 2008. The company takes it on during founding artistic director Robert Kelly's final year—his 50th at the helm of TheatreWorks.
The stage opens on what is ostensibly the Oval Office. In this stripped-down reimagining—busy with men peering into TV cameras and nervous staffers milling about—the mood is tense. Richard Nixon is poised to resign from the office of president.
Narrated by different characters in the play, Frost/Nixon literally jumps between scenes, purposefully resembling a headline news program as it recounts the events that followed Nixon's unprecedented departure—specifically Frost's series of interviews with Nixon about his presidency, which ended with an on-air revelation that forever tainted the reputation of the 37th president.
The potent plot is propelled by strong casting. Every actor in the production fits neatly into the assigned role, embodying their real-life counterparts without falling into caricature or an exacting impersonation. This is most evident in the show's standout performance: Allen McCullough's portrayal of Nixon.
McCullough plays Nixon as a charismatic yet awkward powerhouse, striking a balance between man buoyed hubris and weighed down by doubt.
Frost, played by Jeremy Webb, is equally charismatic but without any of Tricky Dick's nervous ticks. Webb guides his character through a breezy, endearing performance. At the story's start, Frost is a self-interested Lothario. By the end, he is a serious, hard-hitting journalist.
Each character—from Nixon's loyal chief of staff, Col. "Jack" Brennan (played by Craig Marker), to Frost's passionate researcher and Watergate expert James Reston Jr. (played by Kenny Toll)—seem tailormade for their roles. The actors coax electricity out of an already lively script without ever beating the viewer over the head with the play's contemporary parallels.
The TheatreWorks production also does a lot with a little, exercising restraint without sacrificing the immersive quality of the work. One set quickly transitions into another and then another, moving from a talk show studio to a hotel room with ease. The sets are centered around a large, Lazy Susan-like platform that allows for these quick changes.
One particularly striking set feature occurs in the final act, as Frost is skewering Nixon over previously undisclosed minutes from recordings taken in the Oval Office. The wall behind their chairs is studded with televisions, each broadcasting real-time images of the actors and drawing the audience deeper into the scene and ratcheting up the tension.
Women are conspicuously absent from both the story and this production, and the rare female characters present with an unfortunate lack of dimension. While some of the actors' performances are more grating than endearing, and aspects of Frost's sudden second-guessing of his interview technique and intent are less believable, they are small missteps among many deft moves. The show maintains focus without descending into monotonous detail and remains on course, resisting the power of an intense momentum that could have thrown it off the rails.
Ultimately, Theatreworks' adaptation of Morgan's modern classic is a fun, frenetic and often infuriating look at the links between power and accountability.
Frost/Nixon
Thru Feb 10, Various Times, $40+
Mountain View Center for the Performing Arts
theatreworks.org