Arts
Fresh Prints For Your Rear View
Fuchila Fresheners bring Latino art and culture to a familiar automotive accessory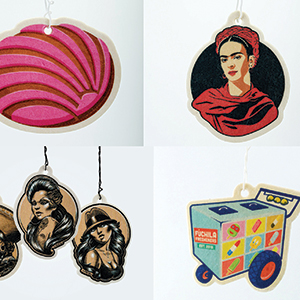 It all started as a throwaway joke at a family party. "Wouldn't it be funny if there was an air freshener company called fuchila?" Ruben Villa recalls quipping. His wife, Veronica, agreed. "Fuchila" is Spanish slang used when something is smelly or off-putting.
The joke continued, even to the point where his family joked about silly designs and smells that the company could sell, but all the while Ruben saw it as something bigger.
"Yeah, we didn't think he was serious at all," Veronica says.
After quitting his design job at Apple in 2014, Villa got serious and launched a Kickstarter for his company, Fuchila Fresheners, to raise $2,500. He created six original designs that he hoped would hit different age groups of the Latino market. He promised sponsors that if the money was raised he would get them the fresheners by Christmas Day that year.
With his original designs of Selena, Frida Kahlo, Pancho Villa, Cantinflas, a sugar skull and the Mexican luchador Blue Demon, they soon surpassed their goal by $1,000, with more than 140 investors pitching in.
"I was getting emails saying, 'Oh my God, I can't believe no one has thought of this before, we love this,'" Ruben says.
Come Christmas Day, with a rose-scented Selena air freshener hanging from their rearview mirror, they drove to local investors' homes to keep their promise and hand-deliver the fresheners.
All of the fresheners that the Villas have designed are inspired from personal experiences growing up as Latinos. They gain inspiration from reminiscing about their Saturday mornings as kids waking up to loud old-school cumbias and having to clean the house.
"I think about who are the people that I saw on TV, who are the people that made an impression on me," Ruben says about finding inspiration for designs. "First, second and third generation Latinos are either struggling or really fighting to hold on to or maintain their cultura. If we could help out with that, then we're really excited."
In 2015 they officially started Fuchila Fresheners with a launch party at Chacho's Restaurant in downtown San Jose. Chacho's became one of their first vendors and today they have vendors in seven states within the United States as well as two vendors in Mexico.
Fuchila Fresheners has been highlighted in many Latino publications like Mitú, Latino Buzzfeed, Latina Magazine, Flama and Comunidad del Valle. Villa says he eventually wants to sell modern twists on traditional Mexican candles and one day get his products in Target stores.
Currently they are collaborating with local artists to create special editions. Abraham Ortega, a tattoo artist for Death Before Dishonor in San Jose, designed a trio of fresheners titled "The Three Ladies" which depict Latina women as a bandita, a hyna and a rucca.
"From the very beginning we've had a great support system in the community," says Veronica. "We're very blessed to have that, whether it be a customer or a business owner. It's not just a product, it's more like the Fuchila familia. That's what we say, 'Thank you for being part of the Fuchila familia.'"
Though the business has spread throughout the country and parts of Mexico, Fuchila Fresheners is still a small, family-run business.
On top of everything they do, the two also go to local car shows to sell the fresheners and the Dia de Los Muertos celebrations held in November in San Jose and Oakland.
The Villas agree that they want to give back to the community. They know firsthand what it is like to have to work hard for what they need, getting jobs early on in their teenage years to be able to afford things for school.They are currently planning on possibly creating a scholarship to help future designers pay for a computer or the Adobe Creative suite.
"I've always said if I were to start a company, I would want people to feel like people are joining a family," Ruben says.
Fuchila Fresheners
fuchilafresheners.com