Arts
Girafa Breaks Free
In new solo show, former graffiti artist and San Jose local exhibits new body of work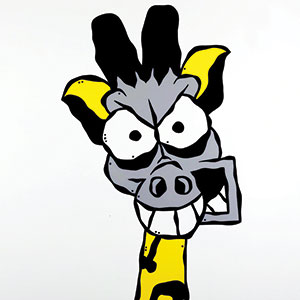 Steven Free's studio is a bit of a zoo. Dayglow paintings of snarling tigers, pissed off zebras and his grimacing giraffes hang on the walls, lean up against the backrest of a bench and are spread out across the floor.
This is where Free—better known by his graffiti name, Girafa—has been spending most of his free time lately. Sometimes he will hole up in here for up to 10 hours working on his latest body of work, which he plans to show in his first solo show opening at The Arsenal in Japantown this Friday. The exhibition, "Going Extinct," finds the former late-night box truck bomber ruminating on the state of the environment.
As he explains his increasing interest in animal rights and nature conservation, the human skulls in his latest pieces become clearer. One also notices the new line work he has developed over the past several years. He is no longer deploying a crisp band of black as he once did. Rather, the outlines of his figures are squiggly and quivering. Judging from the expressions on the cartoon animals' faces, they are likely shaking with rage or fear.
And that's when the human skulls come into focus. The animals are seeking revenge he says—against poachers, polluters and anyone else who would seek to take their lives or destroy their habitat.
"I think I've found my voice," he says.
It wasn't easy to find. Girafa made a name for himself with his prolific and illicit career as a graffiti artist. Much of his early work remains in place all over the Bay Area—from San Jose up to San Francisco, over to Oakland and back down. One can see his bright yellow and black giraffe on the walls of industrial buildings, plastered across fences facing railroad tracks, on the backs of big rig trailers and on the cement banks of flood control channels. He estimates he put up more than 1,000 pieces in his heyday.
Then he got caught, spent some time in jail and was slapped with a whopping fine—about $60,000. It took him a while to get back on his feet and figure out how to do his art on the up-and-up, but he had one thing going for him: brand recognition. Free did commissioned pieces for fans, produced stickers and made keychains of his giraffe character. He maintained a strong presence on Instagram and continued to cultivate a following.
But one day he decided he needed to start from scratch. He deleted all his social media accounts and began searching for something new.
"I just felt like I had hit that plateau," Free says. "Like, I don't know what to do from here."
A quote from an art podcast hangs on his wall: "Impress yourself before you impress others," it reads. He took the advice to heart. "I just wanted to go dark and be with myself—playing, experimenting and seeing what happens, not feeling like I need to show it to an audience."
Free is ready and eager to show his work again. He says he will have about 20 individual pieces at his Arsenal show, which will run May 10-Jun. 1. The largest piece in the exhibit is very impressive. It features three angry animals—a lion, a zebra and a giraffe—glaring out at the viewer, as different layers of giraffe spots swirl about the canvas in layers. Take a step back and you can see that the blue giraffe spots actually take the shape of human skulls.
Free says he is dismayed that animals have no control over what humans are doing to the planet. "I feel like humanity is doomed," he says, explaining the painting and his general aesthetic thrust. "What if animals took control and made humans extinct, so they could live on this planet in peace?"
In addition to the paintings, Free will also be selling stickers and two T-shirts. One of the shirts features three giraffe heads with mouths that resemble the letters 408—the South Bay's area code. The other is two giraffes, their long necks twisting to form the San Jose Giants logo.
Girafa: Going Extinct
May 10-Jun 1
The Arsenal, San Jose
thearsenalsj.com