Arts
Hammer Theatre returns with
'Nutz: Re-Mixed'
Modern take on 'The Nutcracker' coming to the San Jose Rep's former stage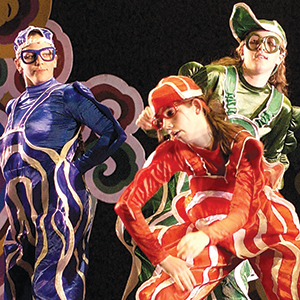 Two million dollars isn't a lot of money in Silicon Valley terms, so the restoration and reopening of the 20-year-old Hammer Theatre in downtown San Jose came at a bargain price. The 5,400-square-foot building was closed after San Jose Rep folded about two years ago. Now, after a renovation and a re-do of the sound and lighting system, it's both a public and a private space.
The downtown theater is ready for black box performances, for students, for corporate presentations. The Hammer has a rooftop terrace, facilities for receptions and sit-down dinners. SJSU put in $1.5 million and the city added another half-million. SJSU's Humanities Dean Lisa Vollendorf describes the Hammer as a place where the city and the university can meet, much like the town-and-gown partnership that resulted in the Martin Luther King Jr. Library.
Vollendorf recalls that the library, now one of the landmarks of downtown, was controversial at first. There was a similar back-and-forth after the San Jose Rep went out of business. The city issued an RFI—"a request for interest," Vollendorf explains, "which at the end of the day the university decided to make an offer on, and rightfully so."
There's a question of "what kind of art millennials will support," as Vollendorf puts it. Giving the campus of 30,000-plus students exposure to the arts is one selling point for the space. "The Hammer Theatre doesn't replace existing spaces, it augments them," she says. "Our facilities are aging. This is our chance to put our best foot forward, and to give the students access to a beautiful performing art center, just two blocks away."
The campus is making a three year initial commitment to the Hammer Theatre, with personnel and faculty investments, to see if it's a financially stable model. If so, that will encourage a longer lease. But there's more, Vollendorf says: "This is made for the broader community, too. It tries to answer the question of how can Silicon Valley be on the cutting edge."
Upcoming events include, maybe, Cinequest in February—this is still in the unconfirmed stage, though San Jose's film festival opened the then-dark Hammer for screenings last year. SJSU's production of Luis Valdez's Corridos just finished its run at the Hammer.
"If you're there in the early afternoon or evening, it's very exciting," Vollendorf says. "Sitting in the audience is a beautiful experience for the students who never went to a professional theater. And we can tell them, 'Welcome to your Hammer Theatre; this belongs to all of us.'"
Renowned Santa Cruz-based choreographer Tandy Beal is generally an ebullient person, but she's especially enthusiastic about the Hammer, which will be hosting her production Nutz: Remixed (Nov. 18-Dec. 4), the new version of her biennial deconstruction of the Nutcracker Suite.
"It's gorgeous, it's fantastic, it's a jewel for San Jose," Beal says. "We're honored that we get to be their first professional show."
Beal's career—which, as she says on her site, has lasted "40 ODD years"—includes collaborations with Bobby McFerrin, Frank Zappa, and the Pickle Family Circus. She had a stint leading the Moscow Circus and she was a crew member of the movie Nightmare Before Christmas.
The beloved Nutcracker gave Beal grounds for renovation. Beal is the first, she believes, to create an alternative version of the traditional Christmas production. Lord knows it comes in various flavors these days—everything from straightforward kid fodder to the Freudian version, filmed by Carroll Ballard in Seattle, with its Maurice Sendak-designed set.
"How do we make joy—something irresistible—during the dark time of the year," Beal asks. "The time when we need places where we go 'Yes!'" Her answer is to have six singers take a different slant on all the world-music dances in Nutcracker, which Beal and her company flavor with hip-hop, Spanish folkloric music and a little punk rock. "The babies get out of the nursery, and there's some antic table sliding, while the characters wisecrack.
"The company is close to readiness. Everything is in place, everyone's grinning in rehearsal—we'll do final run-throughs this weekend," she continues. "We've got Natasha Kaluza with a hoop act that kills—she gets 50 hoops going at once. We've got jugglers and a really good cyr-wheel rider. Lots of daredevil tricks…everybody just walks out uplifted, and they'll have a good time this year."
Nutz: Remixed
Nov 18-Dec 4, $26-$66
Hammer Theatre, San Jose