Arts
Hear This! Explores
the Power of Sound
Audio artists Palo Alto Art Center explores the power
of sound with new exhibit, 'Hear This!'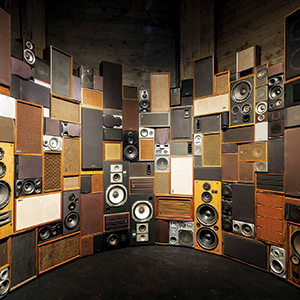 Imagine yourself in a room made of speakers, stacked more than 9 feet high. First you take in the visual. Then you hear and feel the noise, slowly undulating through the space, hissing and vibrating in 12-channel audio—a familiar yet mysterious presence. Welcome to Kate Lee Short's The Oculus, one of several sound explorations included in "Hear This!," a new exhibit at the Palo Alto Art Center.
"Gone are the days when you'd walk into a museum and expect only paintings and drawings," curator Lisa Ellsworth says. "This show is really pushing the boundaries of what is artistic media."
Short, an Oakland-based artist, says she is "interested in dislocating people's senses so that they can experience that space in between knowing something and trying to figure out what that something is."
According to Short, putting together the wall of speakers was certainly a discovery process for her. She built The Oculus out of the 275 speakers—salvaged from free bins and thrift shops, or donated by friends. Once she had amassed her collection, she started stacking and the piece began to take shape.
"It got 'Tetris-y' and the piece evolved from there," she says of the work, which was first built in 2012. Viewers/listeners often take pleasure in recognizing individual speakers, she says, helping them form a connection to the piece.
"I hear people talking about, 'Oh yeah, my mom had that,' remembering the roles speakers had in their own lives," she says. In the past, Short has invited other artists to create audio works to play through The Oculus, including fellow Oaklander Chris Duncan, who also contributes work to "Hear This!" in the form of a site-specific, amplified wire wall.
"It's exciting that we get to do these pieces together in the same room. It's really fun," she says.
Petaluma artist Mark Malmberg's Pink Sky Dragonfly is a kinetic mobile. Responsive to light, it jerks, chirps, spins. "It has its own little personality," Ellsworth says. Julianne Swartz's electrical tapestry, woven with wire and speakers, emits a soundtrack, while wooden boxes whisper and mumble.
"I'm curious to see how visitors respond to it and participate with it," Ellsworth says. "If visitors walk away reflecting on how we live with sound, and a heightened awareness about the possibilities of sound and how it influences and connects us, all the better."
Hear This!
Jan 17-Apr 12, Free