Arts
New Exhibit, 'Hippocampus Wallpaper,' is a Riot of Color
Empire Seven's 'Hippocampus Wallpaper' is witty and warmhearted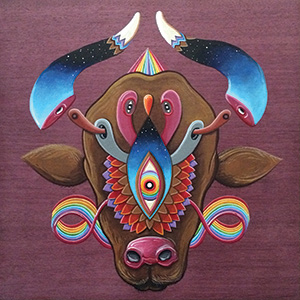 In their respective day jobs, Colin Frangicetto and Drew Roulette each help create wild, energetic and psychedelic explosions of sound. And they spend much of their downtime doing the same thing with paint. Their new exhibit at Empire Seven Studios, "Hippocampus Wallpaper," is a riot of color.
The witty show, whose title refers to the idea of memory and emotion acting as the brain's wallpaper, peeling and eroding with time, features artwork by two friends, artists and fellow musicians: Colin Frangicetto and Drew Roulette, best known for their work, respectively, in the bands Circa Survive and Dredg.
A native of Los Gatos, Roulette is the bassist for Dredg, one of the biggest alternative acts to come out of the South Bay in the last few decades. Roulette has always mixed his music and visual art. His paintings often accompany the band on stage and have appeared on the cover of Dredg albums and in the liner notes.
"For a time I did raffles for paintings every night (while on tour)," says Roulette, which was fun for fans and gave him something creative to do on the road. This talent quickly extended to album artwork.
Growing up, Roulette says, he was into mysterious and dark subjects, as well as trying to "say" something with his art. But as he's gotten older and wittier, the whimsy has crept in. "Humor definitely plays a big part in the show," says Roulette. Using his love of humor and frustration with ideas, he typically comes up with his titles first—all of them puns—one-liners or double-entendres. Roulette then creates the works to have some connection, however tenuous, to the titles. With names like, Do You Minds Eye and Mary Poppin'some Pills, his work speaks for itself.
"I usually use canvas, but I just started on panels," Roulette says about his mostly acrylic-on-wood pieces for the show. "I like the way the wood reacts with the paint."
Influenced mainly by artist Alex Grey, Roulette's art may be bright and crass, but the key to his work is not so much the name of his pieces, but the colorful, tightly composed line-work and imagination. "People should be able to walk away and say, 'that invoked something in me,' be it a memory or relation," he says.
Colin Frangicetto's work comes from a deeper, more personal place. A native of Pennsylvania, Frangicetto is best known as the guitarist for the progressive alt-rock group Circa Survive. In the early 2000s, Dredg were the first big name to take Circa Survive out on tour. At some of the shows, the Circa Survive bandmates would watch Roulette hold his art auctions. "We saw that and were really inspired," says Frangicetto.
Another unlikely boost came from the potential shutdown of a friend's record store in Philadelphia. Members of Circa Survive did what they could to raise money, including putting on an art show featuring work by the band.
"That was my first show, and ever since then it's kind of become an obsession," Frangicetto says
The style of Frangicetto's paintings—bold, natural imagery and finely detailed elements mixed with the lush colors of the southwest—seems to betray the meanings behind them. A bright conglomeration of figures and flowers may seem abstract, but each of his pieces has its own detailed and unique story.
"Almost every piece is born out of some type of strong memory," Frangicetto says. For example, a large expressionist portrait of a man, whose head is split down the middle, is a nod to his past; he fractured his skull as a teenager. Influenced mostly by Picasso, Basquiat and psychedelic art, and working in acrylics and oil pastels, Frangicetto's work is as sharp as it is verdant.
What started out five years ago as another way to pass the time on tour creatively, has become a burgeoning career. And while he pursues his art, Circa Survive continues to tour the world. The day after the opening, he flies to Hawaii to begin rehearsals before a world tour.
Roulette's and Frangicetto's art works well together because of their shared interests, personally and stylistically. Not only are they two professional musicians in influential bands who inspire each other artistically and musically, they both paint mostly in psychedelic palettes using acrylic.
But instead of fading into each other, each artist's work compliments another in line and color. Where Drew slides in humor, Colin will add some poignancy, making for a sly, irreverent and warmhearted show.
Hippocampus Wallpaper
Sep 11-Oct 2, Free